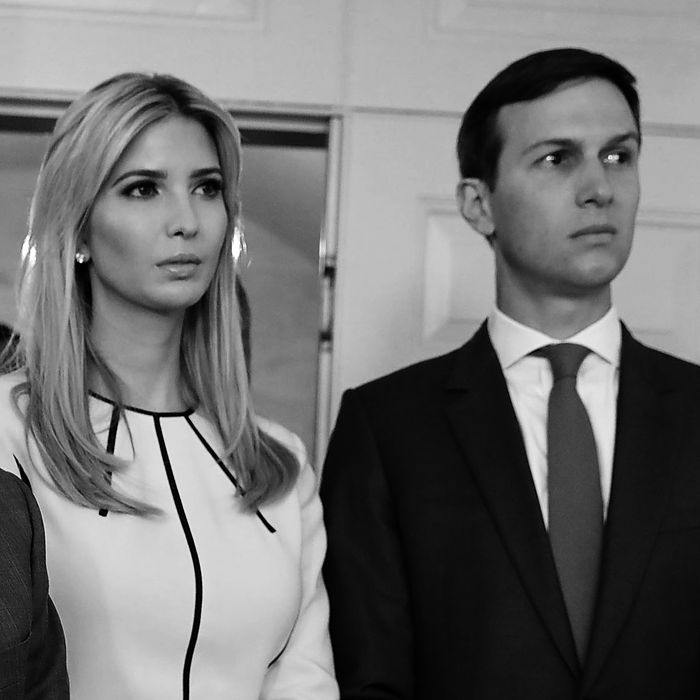 Ivanka Trump and Jared Kushner.
Photo: Chip Somodevilla/Getty Images
Ivanka Trump often winds up trying to defend her dad, President Donald Trump, in the press (you know, with his numerous sexual-assault allegations and his stance on women's issues). But according to a new report from Vanity Fair, Ivanka sometimes confronts her dad behind-the-scenes and ends up defending a different man: Her husband, Jared Kushner, who apparently doesn't feel supported by his father-in-law.
A campaign staffer told Vanity Fair that Ivanka actually "burst" into her dad's office one day during the campaign to complain about his treatment of Kushner. "I need to talk to you," Ivanka reportedly said. "You don't give Jared the support he needs."
"He's left his business to be a part of this. You have no idea what he's sacrificing to be here and how hard he is working for you," the First Daughter added, even though no one in D.C. seems to know what exactly Jared (or Ivanka, for that matter) do all day.
Ivanka told the president just how much his disrespect of Kushner has hurt her feelings — and her relationship with the Kush. Per Vanity Fair:
According to this campaign official, the elder Trump caved immediately. "All right, all right, all right," this person recalled him saying. "What does he want?"
And so, for now, Kushner still has a job in the White House (even though his security clearance has recently been downgraded and the president is reportedly trying to undermine the Kushner and Ivanka behind closed doors, whoops). According to Vanity Fair, the president is keeping his son-in-law around because he "fears letting him out of his sight — particularly if he gets indicted."
Ah, the heartwarming love and support of political families.