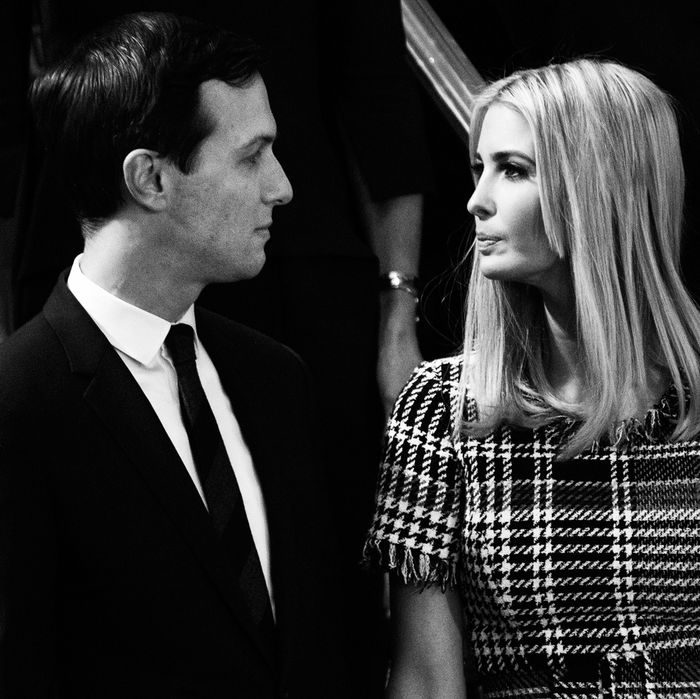 Jared Kushner and Ivanka Trump.
Photo: Tom Williams/CQ-Roll Call
Since getting to Washington, Jared Kushner and Ivanka Trump have been busy incorrectly filling out forms, negotiating peace in the Middle East, and trying desperately to lower everyone's expectations. Still, despite this jam-packed agenda, Chief of Staff John Kelly reportedly doesn't know what exactly it is the couple does all day.
According to AP News, Kelly is frustrated by Jared and Ivanka's "freelancing." As one source explained, the chief of staff blames them for changing the president's mind on policies at the last minute, and questions what exactly it is they do.
This is not the first report of tensions between Jared and Ivanka and the chief of staff. Last week, Kushner's security clearance was downgraded during Kelly's overhaul of White House clearances. Kelly has also reportedly been attempting to formalize lines of communication and decision-making, so as to minimize the couple's influence on the president, a move Jared and Ivanka allegedly see as a direct attack.
Kelly reportedly isn't the only one fed up with them. According to a story in the New York Times last week, President Trump is "frustrated" by the negative press coverage of his son-in-law, and privately asked Kelly to help push him and Ivanka out of the White House.
If kicked out of the West Wing, maybe the couple could go back to doing what they truly love; in Ivanka's case, gearing up for her own presidential run, and in Jared's, haunting a naïve but well-meaning nanny.