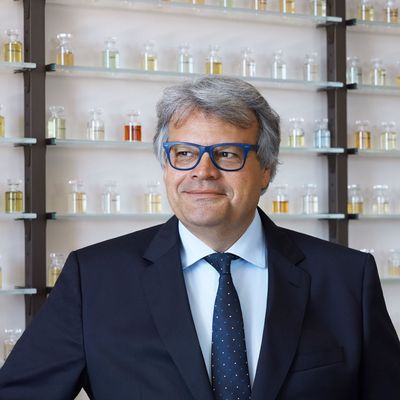 Jacques Cavallier-Belletrud.
Photo: Louis Vuitton Malletier/Thomas Lohr
"I'm making perfumes like paintings," says Louis Vuitton master perfumer Jacques Cavallier-Belletrud. "A good perfume should bring emotions to the woman or the man who is wearing it." A native of Grasse, France, the world's fragrance capital, Cavallier-Belletrud was born into a family of perfumers — his father, grandfather, and great-grandfather all dedicated themselves to the craft. His mother worked as the assistant to a French perfumer, and talk over the dinner table often revolved around scent. "I was fascinated by my father and my mother working just with a blotter, a piece of paper, smelling it," he recalls.
Cavallier-Belletrud worked for various fragrance firms, including Firmenich, where he started in 1990, and created famous fragrances like Givenchy Hot Couture, Giorgio Armani Acqua di Gio, and Issey Miyake L'Eau d'Issey. Nearly seven years ago, Louis Vuitton snapped him up.
His latest creation for Vuitton is Le Jour se Lève (French for daybreak or "the day begins"), a bright, citrusy perfume based on notes of mandarin, black currant, Sambac jasmine, and musk. He said he wanted to give an earthly balance to our tech-saturated lifestyles; to offer the opportunity to reconnect with nature and raw materials. "Mandarin is a symbol of the morning," says, Cavallier-Belletrud. "I wanted to create something full of joy, like a smile in the morning. You know, when you wake and there's somebody next to you and you just have a smile. That's enough. It's a good start for the day."
Below, the master perfumer spoke to the Cut about his love of literature, the art of gifting, and his all-time favorite fragrance. Read on for the full Q&A.
How do you thank people for a gift?
It depends if I know very well the person or not. If I know her or him very well, I can offer a perfume that I only created for him or for her. Otherwise, I think flowers are the most beautiful messenger. Sometimes, if they are very good friends, I offer some wine. A nice Bordeaux or a good Burgundy. Or a book. It depends. The art of gifting is something very important, you know? Because it's showing the attention you put on the other person. Even if you don't know him yet.
Mood lighting or natural light?
Natural.
What are some of your favorite books?
I like poetry. Arthur Rimbaud, Verlaine. I like these kind of poets. Because poetry is bringing you somewhere you have never been, but we're all coming from this place, you know what I mean? Even if it's sometimes difficult to understand, the music of the words is really something important.
What song are you listening to on repeat?
I have many in my telephone. I still like Deep Purple. I love Donna Summer. "Could It Be Magic?" Fantastic. I love it. I like also Donna Hightower, "This World Today Is a Mess." It's really fantastic. Of course, Michael Jackson. The greatest. I love Quincy Jones. They were friends, but Michael Jackson has something more than all the others. I love "Billie Jean." I remember the first time I heard "Billie Jean." It was '83 in Amsterdam. It's still modern today.
If you were a car, what kind of car would you be?
An old Mustang. Eight cylinder. Just for the noise. I mean, it's not noise. It's music. The music of the engine is really fabulous. There is a strong personality. A convertible, of course.
What's another decade that you'd like to live in and why?
I would very curious to be in 2200. One decade that I'm quite fascinated by, if we are speaking about going back, is really the Louis XIV, around 1690 to 1700. It was the top of the arts and architecture, without all the technical help that we have today. It was really the victory of the brain. I admire a lot all the translation that artists made for divinity. When you look at what Michelangelo made in the Vatican, for example, or Botticelli or Leonardo da Vinci. Or in music with Mozart or Chopin.
What's your guilty pleasure?
I just stopped. I was smoking. I quit six months ago. I just decided. But what I don't understand is why I didn't decide it before. What I can say is you feel so good after. You feel genuine. You sleep well. You're lacking something, of course, but all the advantages are much bigger than the pain. I know the pleasure of smoking, that's all. I cannot say anything to the people who are smoking. I was a member of the club.
What are your favorite accounts to follow on Instagram?
Louis Vuitton and Formula 1 Ferrari.
What's your favorite …
Pair of jeans?
Classic Levi's denim. Because it's coming from Nimes, a city in the South of France. Denim was invented in France.
Flower?
As a gift, white orchid. I like to receive orchids and I like to offer orchids. Right now in my office in Grasse, I have a nice orchid plant. The secret is to put the right quantity of water and they need a lot of light. They need to be loved, also, as we do.
Chocolate?
One is from Angelina in Paris. It's for hot chocolate, to drink, coming from Guatemala. In Mexico and Guatemala, where the Maya civilization was, they are still drinking the classical chocolate as they did 3,000 years ago. It's without milk. It's with water. Cocoa, cinnamon bark, and with sugar or honey and a mix of all these ingredients are producing a fabulous chocolate. The other one, at the restaurant Pierre Gagnaire in Paris, is a pure cocoa, black, very bitter at practically 90 percent pure, coming from Ivory Coast.
Perfume?
The next one. But I love one perfume. It's perfume of my mother, Diorissimo, based on lily of the valley.
Fragrance note?
Flowers in general and rose in particular. Roses for me symbolize, from a smelling point of view, what is femininity. That means the very strong character, eternal, soft, sensual, dynamic. All the positive aspects about femininity. It's not just a small flower. It's much more than that.
Candle?
I love candles. I am making my own candles. In candles, I love the smell of Christmas. Feu de bois, absolument. Slightly sweet. Spicy, also. I love it.
Pen?
A Louis Vuitton pen, with romantic gray ink.
If you buy something through our links, New York may earn an affiliate commission.