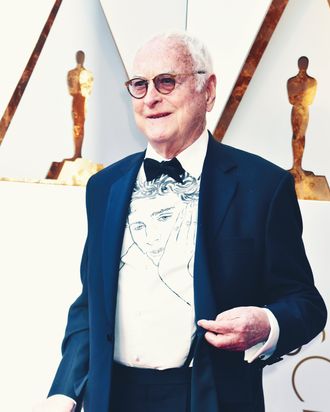 James Ivory.
Photo: Jeff Kravitz/FilmMagic
Actor Timothée Chalamet's face made an appearance on the Oscars red carpet long before the actor actually arrived on Saturday night. His likeness was flaunted by none other than Call Me By Your Name screenwriter James Ivory, who wore a portrait of the actor on his button-down shirt.
Naturally, Ivory chose to wear a scene from the film, and not Chalamet's headshot (although that would have been just as good.) The scene depicted isn't just any scene, though. It's the most gut-wrenching, sob-inducing, stunning final moment in which Elio (Chalamet) stares into a fire as Sufjan Stevens plays and the credits roll. As Vulture writes, it is a "moment of raw and radiant emotion," and you'd be crazy to leave the theater without absorbing every minute of it.
Call Me By Your Name is a film full of Oscar-worthy booty shorts, but also button-down shirts (all of which were styled by Giulia Piersanti, who used to work with Phoebe Philo at Céline.) So it's fitting that Ivory stepped up his shirt game for the film's biggest night out.
We have so many questions about this shirt. Presumably, it's custom. But who made it? How long did it take? Chalamet's face peeks out from Ivory's blazer in exactly the right spot, and it looks far more professional that a Zazzle T-shirt. In fact, it's the most elevated merch we've ever seen.
What does Chalamet himself think about this shirt? Why isn't Armie Hammer wearing one, too? And most importantly, where do we get one?
Update: Ivory's shirt was painted by an artist named Andrew Mania, whose made others like it. Good news: they're for sale. Bad news: the chances of you getting one now are slim.