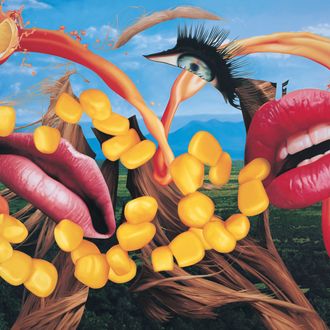 Lips
, 2000.
Photo: JEFF KOONS Lips, 2000 Oil on canvas 120 x 168 inches (304.8 x 426.7 cm) © Jeff Koons. Courtesy of the artist and Gagosian.
Jeff Koons's artwork has always been impossible to ignore. In the '90s, his stainless-steel "Celebration" series of huge, metallic, balloon-shaped puppies and flowers attracted attention from around the world. It was the "Celebration" series that earned Koons the admiration of Louis Vuitton, Stella McCartney, Dom Pérignon, BMW, and Lady Gaga, all of whom have collaborated with Koons on handbags, jewelry, Champagne packaging, car designs, album covers, and more. He donated his most recent balloon structure, Bouquet of Tulips, to the city of Paris in January of this year to honor the victims of the 2015 terrorist attacks, but it was rejected by many in France and largely regarded as obnoxious.
In 2000, the Deutsche Guggenheim commissioned the 45-year-old Koons to produce "Easyfun-Ethereal," a series of paintings now synonymous with his name. Since then, the highly regarded collection has grown to comprise 24 paintings of food, fashion, and Utopian landscapes, the first seven of which have become pillars of modern art history. This week, they've come to New York for a show at the Gagosian Gallery.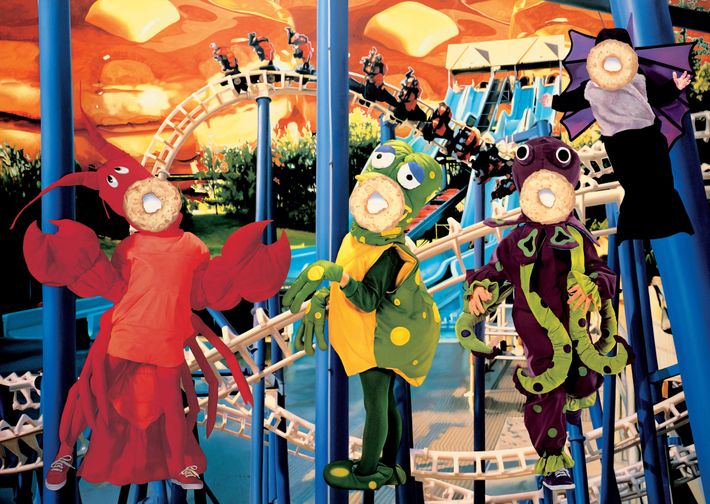 Now open at the Gagosian's West 24th Street gallery, "Easyfun-Ethereal" is a documentation of popular culture at the turn of the century. In two of the paintings, Lips and Hair With Cheese, computer-scanned images of eyes, lips, hair, cheese, milk, and vibrant landscapes are reproduced on canvas as highly stylized pop-art. The collection is a reflection of the idealized images of American life in advertising that Koons was surrounded by as a child in the '60s.
On display alongside the paintings is Woman Reclining, a black granite sculpture. It portrays a woman laying down on a sofa with her legs raised vertically above a pot of red flowers in full bloom. Like the images depicted in the "Easyfun-Ethereal" paintings, this piece is a larger-than-life representation of his childhood memory — in this case, of an ashtray in his grandparents' house (the same one that inspired his famous porcelain Woman in Tub decades earlier).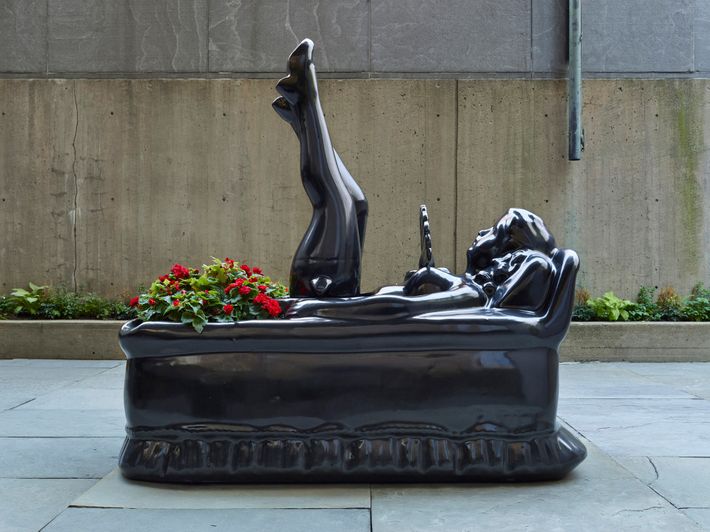 Easyfun-Ethereal will be on view at the Gagosian Gallery in New York until April 21, 2018.