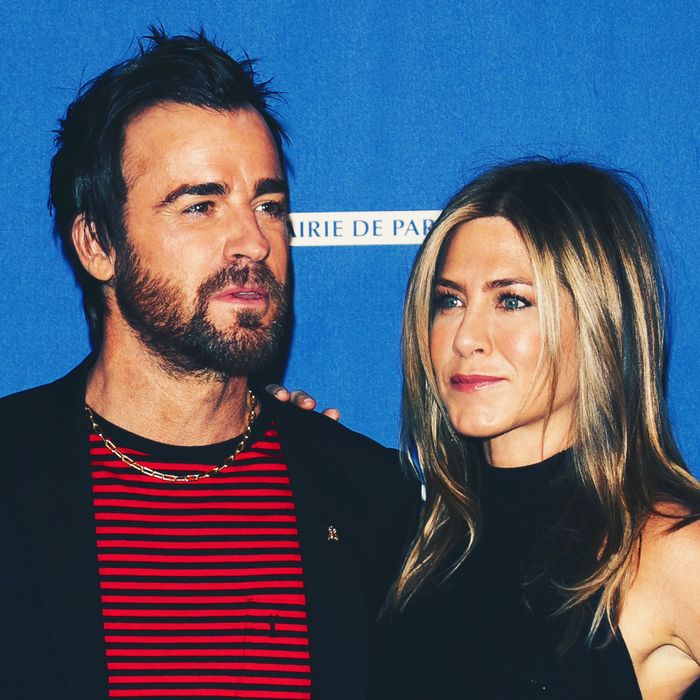 Justin Theroux and Jennifer Aniston.
Photo: Marc Piasecki/Getty Images
We all handle breakups differently. Ashton Kutcher said he went into the woods and fasted for a week after his 2013 divorce from Demi Moore. After her most recent split from Justin Bieber, Selena Gomez grabbed her ukulele and headed down to Australia. And Jennifer Aniston? She's been going to a lot of dinner parties.
According to a Us Weekly, since announcing their separation in February, Justin Theroux and Jennifer Aniston have barely spoken, but Aniston, as always, is fine. On source said, "She is keeping busy with dinners and social engagements," and that "her friends have really rallied around her," and "she is loving being with her girls. She has a great attitude."
The source added that she feels no ill will toward her soon-to-be ex-husband:
"She wishes the best for Justin. They had some wonderful times together but are better off going in separate directions."
Theroux, meanwhile, has reportedly rededicated himself to physical fitness, presumably in an attempt to transform his ho-hum six-pack into a shredded eight-pack that could, in a pinch, serve as a washboard or a cheese grater.