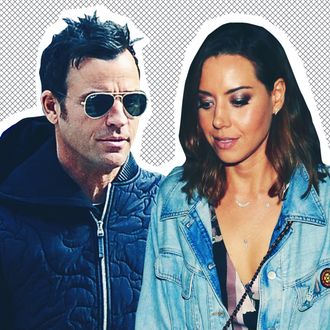 Justin Theroux and Aubrey Plaza.
Photo: Getty Images
Since Jennifer Aniston and Justin Theroux officially split last month, friends of Theroux have been telling the tabloids how happy Theroux is to be back to his "edgy" New York lifestyle. He's been spending time with the "edgy" art crowd, which includes photographer Petra Collins. And now, he's apparently hanging out with Aubrey Plaza. Is Plaza edgy? She must be.
The Daily Mail published several photos of Theroux and Plaza together this morning. The two were spotted walking around downtown on Sunday and going into Theroux's West Village apartment. Plaza, 33, was wearing a Barbour jacket with a "March for Our Lives" sticker on the back, and Theroux, 46, was wearing a black Supreme hoodie with the words "illegal business controls America" on the back. He also had a Supreme sticker on his bike. You can see all of that here.
The Daily Mail points out that Theroux and Plaza have known each other for some time; Theroux appeared on an episode of Plaza's show Parks and Recreation in 2012. But this is the first time they've ever been photographed together. What message do you think Theroux is trying to send here? (Besides "illegal business controls America.")