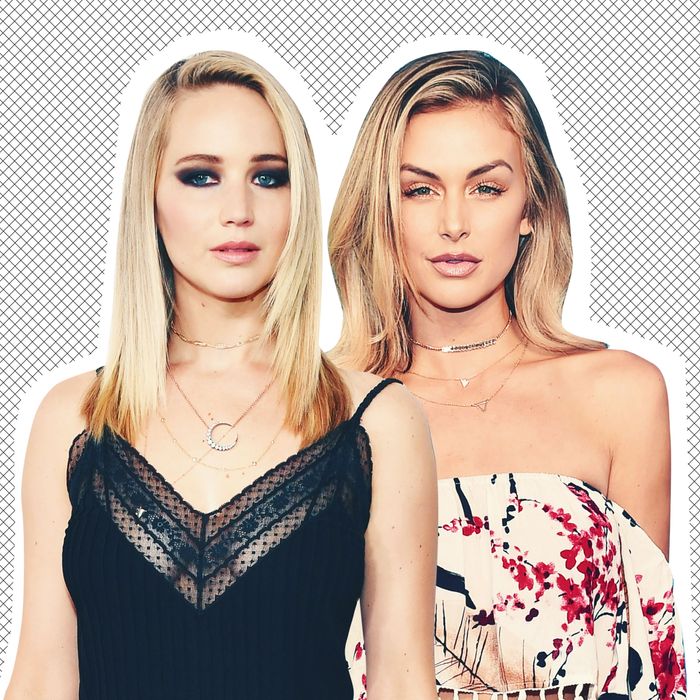 Jennifer Lawrence and Lala Kent.
Photo: Getty Images
Jennifer Lawrence may not have been a fan of Phantom Thread, but she's a big fan of reality TV, and she has many, many strong opinions about it. During her appearance on Bravo's Watch What Happens Live With Andy Cohen last Thursday, the mother! star shared some of her strong opinions with Cohen, including her belief that Lala Kent from Vanderpump Rules is a phony for befriending her enemies. "I'm like, 'Bitch, you's a c*nt!" Lawrence elaborated.
Surprisingly, Kent, whose entire job is starting drama with people, was not thrilled by Lawrence's description. On Thursday night, she tweeted then deleted, "Did Jennifer Lawrence really call me a 'c–t' on @bravowwhl? Annnnnd talk about my mama? Bitch, you better pray I don't see you in the streets. You're one of the highest paid actresses on the planet … you claim you are pro-women and you call another woman a c–t? You're gross."
On Tuesday, Kent expanded on her comments during an interview with "Reality Checked" on Sirius XM.
"I did a three-peat: I did one tweet, delete, two tweet, delete, three tweet, delete," Kent said. "My manager called me and said, 'Lala, what are you doing?' She goes, 'You either delete the tweet or you delete my info for the next 24 hours 'cause I'm not trying to deal.' So, I deleted it."
She went on, "The thing is, no one wants to be called the C-word, especially by an A-list celebrity on national television. I was such a huge fan of hers, and it bummed me out. I thought that she had a little more class than that. You know, let's leave the trash to people like me who do reality TV. Don't try to steal my thunder, girlfriend!"
Lawrence has not responded to Kent's comments. One question remains, though: Is this about the pasta or not?