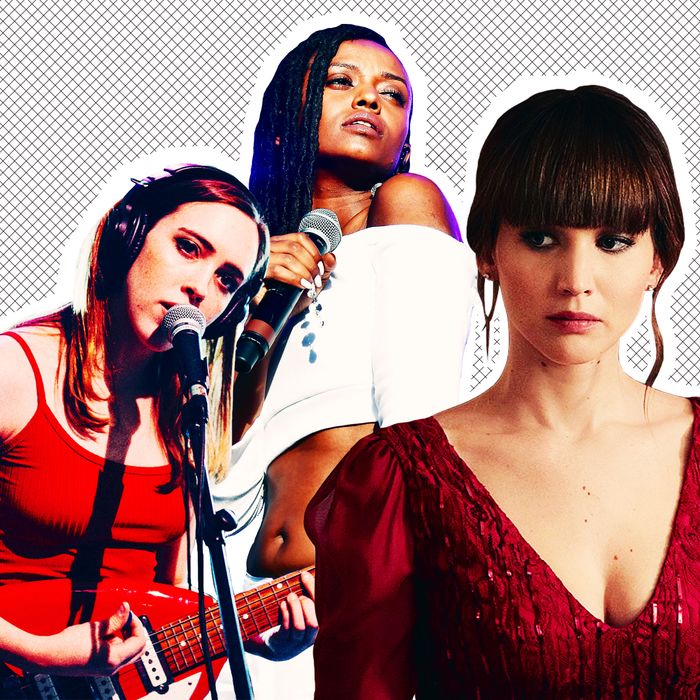 Photo: Getty Images; Courtesy of Twentieth Century Fox/Warner Bros; Courtesy of Soccer Mommy
What's Good is a weekly column collecting TV, music, movies, and miscellaneous cultural ephemera worthy of your time. Why? Because we like it. Check back Fridays at lunchtime for your guide to what is good.
I'm personally very surprised by this, but this week I'm recommending Red Sparrow to everyone.
I know. It's weird to choose such a grim, alienating, sexually violent film, especially one that's getting deeply mixed reviews. I also realize that it might be too soon to suggest a spy movie that somehow has so much in common with Mother! Both films star Jennifer Lawrence in two of her most insufferable roles yet. Both films are created by men who seem to have little regard for what audiences might find enjoyable, both films are terrible to women, and both films are way too long (though Mother!, at 121 minutes, felt decades longer than Red Sparrow's 180-minute run time). And yet here we are: I still liked it.
Jennifer Lawrence is Dominika, a Russian ballerina who suffers a horrifying, gruesome injury that we both see and hear. If she's not dancing, she'll lose everything: her apartment, her ability to care for her mother, probably her life. And so she is recruited by her own uncle to attend Sparrow School, which trains spys in the age-old art of seduction. (Fucking. They are taught to fuck.) Dominika is assigned to bone a CIA agent (Joel Edgerton) in order to get the name of a mole, and that's where things get fun and sexy. Soon we can't tell whose side she's really on and the movie shifts into a cat-and-mouse game.
Go see it! And if you aren't convinced by the above description, here are five more reasons:
1. Drunk, Double-Crossing Mary-Louise Parker: As Vulture points out, there is a short film hiding within Red Sparrow that's the best movie I've seen in 2018. The criminally underused Mary-Louise Parker plays one Stephanie Boucher, a congressional aide selling secrets on floppy disks to the Russians for fat stacks of cash. She loves vodka almost as much as she loves money! And, in a ten-minute scene, she establishes herself as the best part of the movie: drunk, horny, a little tragic. She also has the movie's only good line: "Why are Russian women so sexy and all the men look like toads?"
2. Russophobia/Russophilia: Either way, we can't stop thinking about Russia. Between the Olympics showdown of Evgenia Medvedeva and Alina Zagitova, the prospect of a pee tape, and the forthcoming last season of The Americans, our cultural fascination with Russia is at an all-time high. For me, Red Sparrow scratches a highly specific "I need to believe that every Russian is secretly a highly trained spy" itch. At the very least, the best revenge for possible collusion is Jennifer Lawrence's god-awful Russian accent.
3.The Spy Wardrobe: Nothing about this movie is subtle, which includes the wadrobe. If Dominika is going to seduce someone, she's going to do it in a red seduction dress and black lace lingerie. If she's going to spy, she's going to skulk around in a beret, big sunglasses, and leather gloves. If she has to befriend a CIA agent at the pool, she's not going to wear a Speedo, she's going to wear a maillot with a million nonsensical cutouts. But the clothes? They are so good. Every outfit is the platonic ideal of what it should be, to the point where I found myself wondering where she got that cable-knit sweater she's wearing while she shaves off Joel Edgerton's skin.
4. It's Total Trash:. Everyone knows what critics mean when they describe a movie as "refreshingly adult." It's code for smutty. If you're like looking for something classy like Mata Hari, go away; if you want a movie where the consensual sex barely has motive other than providing soft-porny erotica, get involved. Remember, the spy training hinges on sex school. My only complaint is that the film didn't lean into its campy, slutty Lifetime-movie DNA enough. But it did manage to get us to reason five …
5. Joel Edgerton: Forgive my moment of heteronormativity, but hello Nate Nash. He's basically a parody of an American CIA agent: a muscular, impulsive lunkhead, who sometimes randomly talks like a cowboy. He falls for the exotic bowl of borscht, even though he knows dipping his spoon will compromise everything; it doesn't matter, because his penis is telling him she must be saved and only he can save her in his strong arms. And (thank you, movie gods) there are not one, but two scenes in which he emerges from a pool in a little Euro shorty-short bathing suit.
This week, people couldn't stop talking about three dudes vying for the role of the Internet's Boyfriend. Lucky us! Three very different suitors to pick from:
Alexis Ohanian: This week, not only did Mr. Serena Williams lead a change.org charge to get the Emoji Council to include "interracial couple emoji," he was also moved to put up four Serena-dedicated billboards alongside a California highway. To some this is a grand gesture, a testament to a great love. To others, it was a cheesefest, and maybe he should have just written a card or hired a skywriter or something subtle like that.
Safaree: In direct opposition to Sir Woos-Too-Much, Nicki Minaj's ex Safaree didn't have to try at all. All it took was one leaked dick pic and he had women on social media willing to risk life and cervix for him. I'm not sure his pants parcel means he's a worthy Internet Boyfriend, but he's definitely an Internet One-Night Stand.
T-Pain: The King of AutoTune is now the King of our Hearts thanks to this one perfectly sweet tweet about his wife, Amber Najm. We have a winner.
Songs for the Internet Boyfriendless
Nashville's Sophie Allison (a.k.a. Soccer Mommy) drops her first album today. Clean is a tightly composed album all about relationship peaks and valleys (mostly valleys). She's reminiscent of another favorite lovelorn musician, Mitski, in that they both evoke a '90s sound (in Allison's case Liz Phair and a little pop of Wheatus) and wrap a lot of emotion up in chill indie rock. So many feelings.
On "Your Dog," Allison sings about a hard-to-leave toxic relationship. "Cool" is an upbeat, sort of twangy power-pop song about a role model who breaks hearts and steals joy. Then there's "Last Girl," about falling short of the last girl your partner dated.
Elsewhere, Kelela released her video for "Frontline," a song that, she tells Rolling Stone, is about "leaving your ex with the wind in your hair while acknowledging a curiously complex feeling of pain that he has left you for a white woman." The video takes place in a digital world and is actually really moving, despite looking like the saddest, sexiest Sims release ever.
And just in case you wanted your dormant feelings volcano to go totally Pompeii: Here, a stripped-down version of Daniel Caesar's "Best Part," which I've been melting to for the entire week.