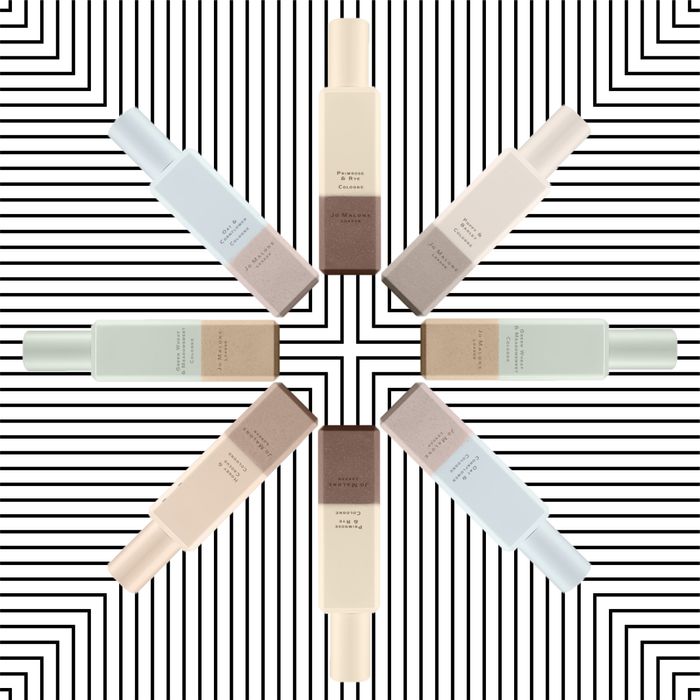 Photo: courtesy of Jo Malone London
Florals, citrus, woods — those are words typically associated with fragrances. Not so much cereals and grains. But Jo Malone London's newest fragrance line uses those ingredients to create a limited-edition collection that's reminiscent of the English country. Jo Malone's English Fields Collection includes five new scents that pair a grain with a wildflower for a collection that's quintessentially English and perfect for spring.
The line includes scents like Poppy & Barley, a powdery perfume that includes notes of blackcurrant, musk, and violet flowers, and Honey & Crocus, which is a warm honey-lavender scent with a hint of sweet almond milk. The Oat & Cornflower fragrance is a warm musky scent with notes of hazelnut, sweet tobacco, and blue cornflower. Green Wheat & Meadowsweet and Primrose & Rye are the vivid, fresh scents of the collection. Green Wheat & Meadowsweet smells like the first blooms of spring mixed with fresh grapefruit and earthy vetiver. Primrose & Rye has notes of golden corn, coconut, mimosa, and a spicy hint of vanilla.
The bottles also take inspiration from English fields. Instead of Malone's typical silver and glass bottles, these ones are half covered in pastel hues while the bottom half has a grainy or cork-like appearance.
The English Fields Collection is available now, and some of the scents are already selling out so be sure to try the indulgent earthy spring scents before they're gone.
If you buy something through our links, New York may earn an affiliate commission.