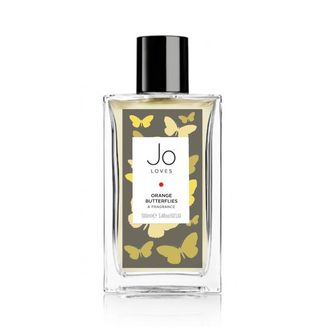 Calling butterfly enthusiast Mariah Carey and all her like-minded fans. There's a new, non-bleak perfume courtesy of legendary perfumer Jo Malone. Malone started her Jo Loves perfume line five years after she left Jo Malone in 2006 as the Creative Director. (She started Jo Malone, a line of candles, perfumes, and other body products in 1991 after working with Sarah Ferguson, the Duchess of York, and developing an impressive client list of celebrities and supermodels.) Jo Loves, while an entirely separate line, shares the same qualities Jo Malone evangelists have come to love: quality ingredients, and scents that can be mixed and matched.
As with Malone's other scents, Orange Butterflies focuses on the ingredients, not the sensual, daring, or carefree aspirations most other fragrances seek to bottle up. Her new perfume was inspired by the South of France, Malone's favorite destination, and Jo Malone's classic Orange Blossom scent.
Notes of orange blossom, mandarin, neroli, and petitgrain (oil extracts from bitter orange trees) mingle to create Orange Butterflies and the supposed feeling of sitting on a hillside while butterflies take flight create the "floral symphony." Or it could simply be a reminder of how great your house smells if you mix it into all your cleaning supplies like Malone does.
Orange Butterflies will be available in April.