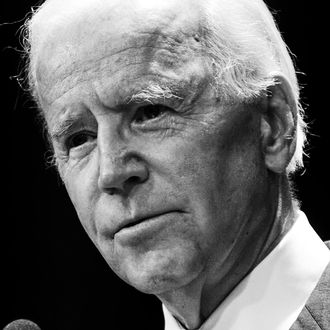 Joe Biden.
Photo: Bastiaan Slabbers/NurPhoto via Getty Images
Last week, actual Joe Biden and Onion Joe Biden briefly became one when, while speaking at an anti-sexual-assault rally, the former vice- president shared that he'd like to fight the current president. More specifically, he said that if they were both in high school, he'd take Trump "behind the gym and beat the hell out of him." Trump then responded by tweeting that "Crazy Joe Biden" would "go down fast and hard, crying all the way" in a present-day fight. But rather than take up the offer of a septuagenarian brawl, Biden now says that he regrets his comments.
"I shouldn't have said what I said. I shouldn't have brought it up again, because I don't want to get down in the mosh pit with this guy," Biden told Pod Save America, according to Politico. "The idea that I would actually physically get in a contest with a president of the United States or anybody else now is not what I said, and it is not what this was about, but I should have just left it alone."
Biden previously said he wanted to beat Trump up behind the gym back during the 2016 presidential campaign.