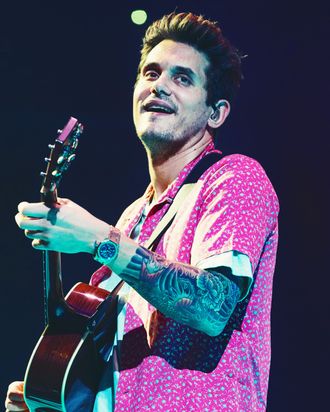 John Mayer.
Photo: SUZANNE CORDEIRO/AFP/Getty Images
Newest beauty influencer John Mayer thinks his body is a wonderland enhanced by bath bombs. The Grammy-winning singer has been sharing his secrets for being zit-free and how he gets his skin so good (being antisocial, not P-50). Last night, the new influencer created some new content for his channel, by sharing a ditty he wrote about bathtime with his Instagram followers.
Like your 12-year-old niece, Mayer is a fan of Lush's potent bath bombs — scented spheres which are activated by water to become a fizzy, effervescent, bubbly bath of many colors. Eschewing Epsom salts (because it's not as photogenic, duh), Mayer sang, "Jelly Bomb excreting all the things my body is needing, as I climb into the tub because my back just took a beating, eeeee—ahhh." He did an a cappella version first over the sound of running water, and then a second with guitar before exclaiming, "Hey, that's pretty good!"
You can buy Mayer's bath product of choice, Lush's the Big Sleep Jelly Bomb, for $9. No word on when his new single/jingle will hit Spotify or his likely follow-up, "No Such Thing (As a Bad Face Acid"). But he has plenty of time to work on learning FTC regulations, the art of lipstick, and marble-table flat lays, and getting-ready-with-me videos in his new side hustle as beauty blogger.