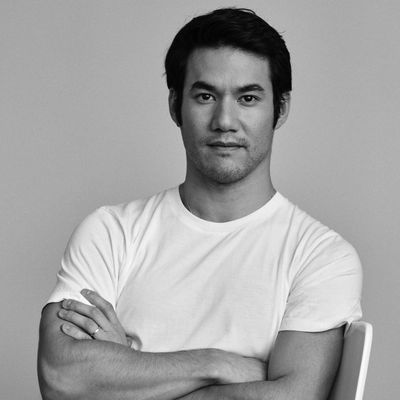 Altuzarra.
Photo: Bruno Staub
When designer Joseph Altuzarra defected from New York Fashion Week last fall (as many designers have been doing) to his native Paris, his reasons were sentimental as well as business-minded. "Most people think of me as an American designer, even though I am half French, I grew up in France," the designer says. "I wanted to take this opportunity to be able to tell the story of the brand, and my story, in a more complete way." Of his ideal customer, Altuzarra says, "I think that she comes from a lot of different places, grew up in a very multicultural environment, and she's also someone who travels a lot, and collects a lot from her travels."
It was while volunteering in the theater costume shop at Swarthmore College in Philadelphia that Altuzarra, who was studying art history as an undergraduate, first realized he wanted to become a designer. He parlayed his art history degree into a fashion major of sorts, presenting a final collection rather than a final art project, which impressed the intern-seekers at Marc Jacobs, who promptly hired him for an internship after graduation, despite his lack of formal training. "Lo and behold, at Marc Jacobs they had asked an intern to alphabetize the résumés," Altuzarra remembers modestly. "So I was on top of the pile. I was the first one called, and I was available. It was a lucky break."
After a few seasons with Jacobs, Altuzarra secured work with Proenza Schouler before going on to apprentice with a French pattern maker, and then back to Paris to work under Riccardo Tisci at Givenchy. He launched his own line in 2008, and quickly became a CFDA favorite. His globetrotting sensibilities earning him Womenswear Designer of the Year in 2014, as well as legions of fashionable fans.
As he celebrates ten years of his brand, the designer spoke to the Cut about his own ideal travels (his long-delayed honeymoon), his devotion to Hanes T-shirts, and the soundtrack he can't get out of his head. Read on for the full Q&A.
How do you thank people for a gift?
I send a handwritten note. I'm very old-fashioned. I have Smythson stationery.
Mood lighting or natural light?
I prefer natural light. I love natural light.
What are five coffee-table books you'd be proud to display?
The first one is Lalanne. The second I love is Sheila Hicks: 50 Years.
The third one is a book my mom gave me for my 16th birthday, which is Nureyev, which I have always loved. The fourth one is Maria Pergay: Complete Works. I actually saw her, Maria Pergay, and Sheila Hicks's works for the first time at the same time, in a gallery called in New York. I've been really inspired by both of them. Obviously, Sheila Hicks for textile, and Maria Pergay for that kind of metal-hardware kind of aesthetic. Then, the last one would be Charles Fréger. There's a book he did called Wilder Mann, which I was really inspired by for the Spring-Summer 2018 show.
What would you never wear?
Nothing really. I'm very open-minded about my wardrobe.
What's your favorite song on your playlist right now?
I am currently obsessed with the movie Call Me by Your Name, so I've been listening to that soundtrack, basically on a loop, since the day it came out. I love the Sufjan Stevens song, called "Visions of Gideon."
What's your dream vacation?
It's a safari. We got married three-and-one-half years ago, and we still haven't gone on a honeymoon. And the honeymoon is a safari, we just haven't planned it, we haven't made the time for it. But, it's gonna happen.
What other decade would you like to live in and why?
The answer is now, just because I think being gay in any other decade would be pretty terrible.
What's the secret to throwing a good party?
When we got married, my husband insisted on having an ice bar, which I thought was a little like, kind of on the verge of tacky. Actually, the fact that there was something a little bit tacky made people let their hair down and loosen up a little more. I've really come to believe that, to have a good party, it can be tasteful, but you have to have one thing be a little tacky. Like, the music, or the decoration, or something in the food has to be a little, like, bad taste, so that people feel like they can relax and laugh.
What's one way your taste has changed since you were a teenager?
When I was a teenager, I was really into Brit Pop. I grew up in France. I liked Blur, and Oasis was huge. I used to literally dress like Liam Gallagher from Oasis. So, that phase has passed.
What's your guilty pleasure?
My guilty pleasure is BuzzFeed quizzes. I find the most relaxing thing, right before I go to bed, is going on BuzzFeed, and reading every kind of inane article or quiz on the site that's popular. Basically, I'm wasting my time, but it's a very pleasurable, relaxing 15 minutes.
What are your favorite accounts to follow on Instagram?
I love people who have really funny commentaries. Alexander Fury I think is really funny. Tim Blanks, I really like following. I like following Selby Drummond and Michel Gaubert.
What's the last show that you've binge-watched?
The Crown. We were actually in London, over the break, and we were with my parents, my family, and we watched it together, over the course of four days. It was awesome.
What's your favorite …
Pair of jeans?
I've worn Raleigh Denim slim-fit jeans for a few years now. They're just no-nonsense; they fit really well. They're a really easy fit for me. I've always been a huge fan.
T-shirt?
I like Hanes. I buy them by the pack. I basically wear a white T-shirt every day. They're kind of indestructible. They're one of those items of clothing that actually looks betterthe more you wear it. I have some that are literally ten years old.
Pajamas?
I sleep naked.
Flower?
My favorite flowers are hyacinths, which I just remember from being in Paris during the spring. I have this really positive, 'Spring is here!' associations with it. I always buy hyacinths when it gets nice in New York. They smell so good.
Chocolate?
I don't eat a lot of chocolate, only because I have a fear that it gives me canker sores. But I love Pierre Hermé, when I dare to eat it and face the consequences.
Fragrance?
I wear this fragrance from a French pharmacy, called Buly 1803. It's a very old French pharmacy, and they make a perfume called Bigarade de Séville. It's very citrusy, which I usually hate, but I love it. I wear it every day, and about six months ago I put it on, and I suddenly realized that it smells exactly like the hair tonic that my grandfather used to wear. I think that's why I love it.
Sheets/linens?
It's hard to beat Frette. If you can afford it, they're sort of awesome. We got some, actually, as a wedding gift. We have a nice pair of sheets, and a not-as-nice. Whenever we cycle in the nice Frette pair we're really happy. They are white, which is dangerous, because we have a dog. But, it just means we have to do a little more laundry.
Lip balm?
I really like the lip balm from Caudalie. You get it for free when you fly La Compagnie from New York to Paris.
If you buy something through our links, New York may earn an affiliate commission.