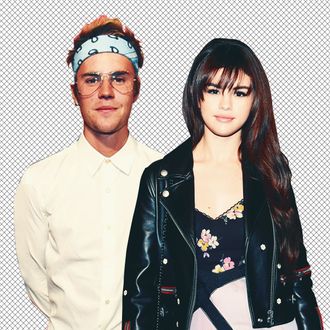 Justin Bieber and Selena Gomez.
Photo: Getty Images
Only a few short weeks ago, Justin Bieber and Selena Gomez spent Valentine's Day/Ash Wednesday making out after a service at Beverly Hills hipster megachurch, Hillsong. And yet, in a stark reminder that nothing in life is permanent and all we are is dust in the wind, the on/off couple have since decided to take a (gasp) break. But don't worry: they're still going to the same church, so there's hope for them.
According to People, the hockey fans have put their latest attempt at reconciliation on hold to spend time focusing on their spirituality. Apparently Bieber and Gomez were never even "officially" back together (even though they have reportedly been in Christian couples therapy) and they've decided to, at least temporarily, be even more technically-off than before.
"They weren't getting along and decided to take a break. It doesn't seem like a big deal and they will probably be fine soon again," a "Bieber source" told People. Meanwhile, another source told E!, "They were having a lot of little disagreements recently and one fight in particular blew up and caused them to decide to 'break up,' however, they've been in contact the entire time and their feelings for each other have not changed."
Despite their non-relationship woes, Bieber and Gomez still attended the same church service on Wednesday night — though apparently they did not sit together inside (drama!). But given that the E! source said the pair will "absolutely get back together," we anticipate a romantic post-church reconciliation in no time.