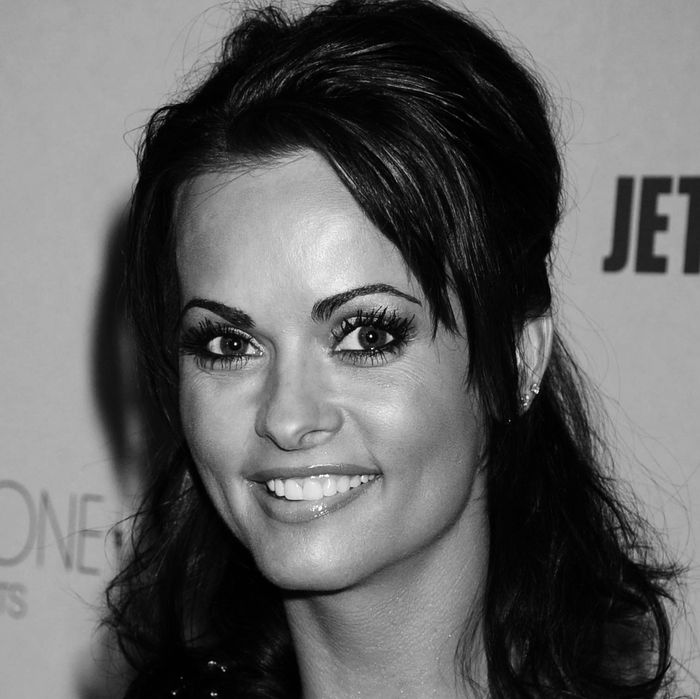 Karen McDougal.
Photo: Jeff Kravitz/FilmMagic
Just two weeks after adult-film star Stormy Daniels (a.k.a. Stephanie Clifford) filed a lawsuit seeking to get out of an agreement to stay quiet about her alleged affair with Donald Trump, a second woman — former Playboy model Karen McDougal — filed a separate complaint in Los Angeles court to be able to speak about her relationship with the president.
As the New York Times reports, the lawsuit claims McDougal was paid $150,000 in 2016 by the company that owns The National Enquirer — American Media Inc., whose chief executive is friends with Trump — to not discuss her alleged affair with the now-president. Daniels, meanwhile, was paid $130,000 by Trump's attorney Michael Cohen to keep quiet about her alleged affair with Trump.
In the lawsuit, McDougal alleges Cohen was secretly involved in her negotiations with A.M.I. and that she was misled about the deal. Both Daniels and McDougal claim their respective contracts are invalid. The Times notes that McDougal's suit was filed days before Daniels's highly anticipated 60 Minutes interview is scheduled to air this Sunday.
The details of McDougal's affair were detailed in a bombshell report by The New Yorker last month. According to Ronan Farrow's report, the affair began in 2006 after the pair met at the Playboy Mansion — at which point Trump had been married to Melania for two years — and the relationship ended after nine months. McDougal alleges in her lawsuit that after The New Yorker report came out, A.M.I. warned her that "any further disclosures would breach Karen's contract" and "cause considerable monetary damages."
McDougal's attorney Peter K. Stris accused A.M.I. of "a multifaceted effort to silence Karen McDougal" in an email to the Times. He went on to say, "The lawsuit filed today aims to restore her right to her own voice. We intend to invalidate the so-called contract that American Media Inc. imposed on Karen so she can move forward with the private life she deserves."