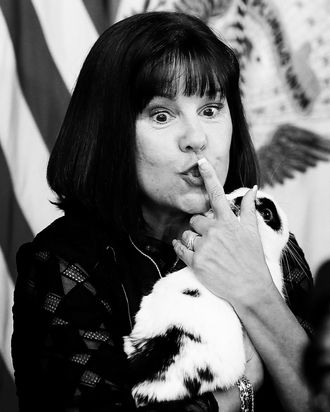 Karen Pence and Marlon Bundo.
Photo: Chip Somodevilla/Getty Images
Second Lady Karen Pence and daughter Charlotte are eagerly preparing to go on tour for the long-awaited release of Marlon Bundo's Day in the Life of the Vice President, a children's picture book about the family's bunny that will finally hit the shelves on March 19.
It was announced via Instagram in September 2017 that Marlon had snagged a book deal with Regnery Kids, the children's imprint of the conservative publisher. The tale, written by Charlotte, will follow Marlon as he observes "Grampa" Mike Pence doing vice-presidential duties (yearning for the end of abortion, picking up candies for Mother at the local CVS, etc.). Readers will also get a look at Karen's artistic abilities, whose watercolor illustrations will adorn the book's pages.
AP News reports that the tour, which commences March 18, will stop at the presidential libraries for Richard Nixon and Ronald Reagan, as well as a number of military bases. According to Regnery, the Pences will give a portion of the proceeds to charities fighting human trafficking and promoting art therapy for children who have been diagnosed with cancer.
While ostensibly no book reviewers have taken to social media to galley-brag, Marlon is apparently very excited to read the book.
Correction: The original version of this post incorrectly stated that Marlon will not be going on the book tour. Per Regenery, he will be touring.