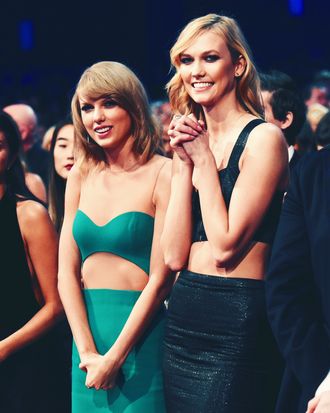 Taylor Swift and Karlie Kloss.
Photo: Kevin Mazur/WireImage
It's the question all Americans, including Jennifer Lawrence, want answered: What's going on with Taylor Swift and Karlie Kloss? They used to be best friends forever, but over the last year or so, they have been less demonstrative about their friendship, and then last month, Kloss did the unthinkable, which is to say, she hung out with noted Swift enemy Katy Perry in a public place. (They got sushi in West Hollywood with professional celebrity super-connector Derek Blasberg.) Most fans seem to believe that Swift and Kloss have had some kind of falling out; more radical #Kaylor shippers think that they were romantically involved and then broke up. But, in a new interview with the New York Times, Kloss cautioned us all against paying attention to gossip. "Don't believe everything you read," she said.
In the interview, which was mostly about her coding camp for teenage girls ("Kode With Klossy"), Kloss opened up ever-so-slightly about her personal life, telling Times reporter Caroline Tell that she and Swift remain friends, and that they "talk frequently." She was more expressive when it came to discussing her friendship with Serena Williams, however. "Serena is one of the most extraordinary women on the planet," she said. "She challenges the status quo in so many ways, and I learn from her constantly."
But Kloss and Swift talk frequently! Don't believe everything you read.
Kloss straight-up refused to discuss her relationship with Josh Kushner, the Democrat brother of Jared Kushner. "My relationship has nothing to do with this interview," she said.
But … her friendships with Swift and Williams are relevant to the story? What kind of media training is Kloss getting? I am more confused about the state of her personal life than ever before.
Perhaps we should all just give up reading. And kode instead!