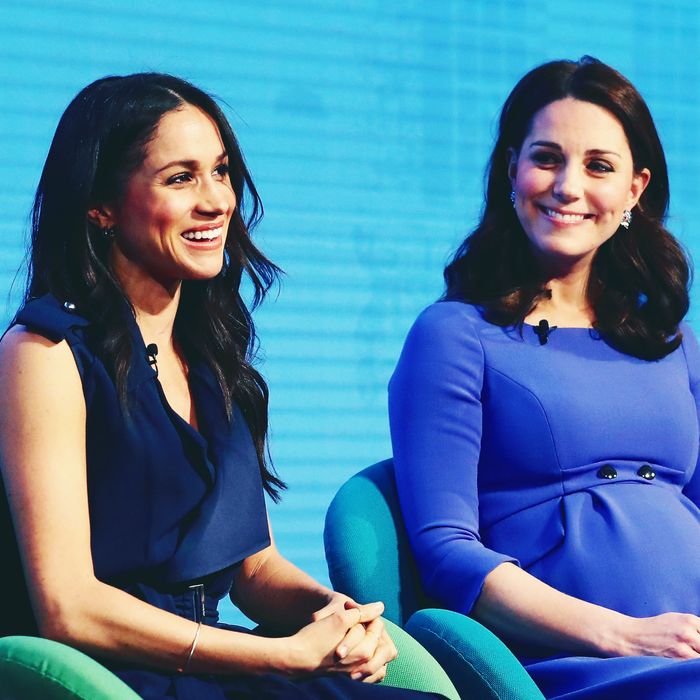 Meg and Kate.
Photo: Chris Jackson/Getty Images
It is a truth universally acknowledged that Meghan Markle has great style. But with her upcoming royal wedding to Prince Harry less than two months away (can you believe it?), the Suits star is having to change her chic wardrobe and dress a bit more conservatively. Luckily, her future sister-in-law Kate Middleton is there to help.
According to Entertainment Tonight, the Duchess of Cambridge has been doing whatever she can to help Markle adjust to life as a royal. Part of that, it appears, entails learning the ins-and-outs of how to dress as a royal. Middleton has reportedly "been advising Meghan about royal fashion, what protocol is expected and how she may have to adapt in the future." Per ET:
"She has provided Meghan with names of some of the favorite U.K. go-to designers on everything from dresses, coats and the all-important British hat," a source tells ET. 
We've already seen some changes in Markle's fashion since her royal engagement was announced — notably, she's been sporting some fancy British hats at certain events, and her power-coat game is better than ever. ET notes that Markle will also need to adopt longer hemlines and wear fewer sleeveless dresses at royal functions moving forward. But she still tends to go bare-legged in dresses instead of sporting nude stockings (for the most part, anyway).
But don't worry: Markle apparently won't have to stop sporting her beloved messy bun when she officially becomes royal. ET's source said, "There is no royal protocol for hairstyle. Kate often styles her hair in casual ponytail at more informal events, and Meghan's messy bun was an attempt to fit in with the young people she was meeting in a similar casual setting with Prince Harry." Phew!