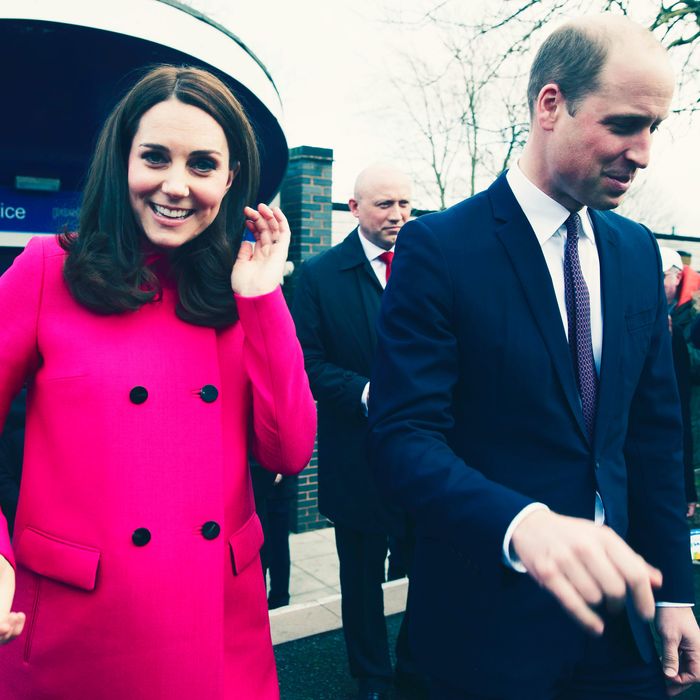 Kate Middleton and Prince William.
Photo: HEATHCLIFF O'MALLEY/AFP/Getty Images
In April, Kate Middleton and Prince William are set to welcome their third child (my, how time flies!) — and bookies are already taking bets on the unborn infant's name. But just like with their last two kids, the front-running names are not really unexpected.
Jessica Bridge of the Ladbrokes Betting Agency in the U.K. told Newshub that the royal family tends to "regurgitate the same names every few generations so it's very hard to see a Princess Chardonnay or a Prince Wayne." Bookies keep changing their tune about the top names for the soon-to-be royal, but at the moment, the top names are Alice and Mary for a girl (which people are convinced it will be, even though the gender hasn't officially been revealed) — and Albert and Arthur for a boy.
The odds first favored those names back in January. Then, in February, bookies revealed that Mary was the top pick for a girl's name while Albert and Arthur were the top boys's names. At that time, Alice was the second-most-likely girl's name, tied with Victoria, according to Metro UK.
Mary has been used several times in the British royal family — and it's one of the middle names of Queen Elizabeth. Express notes that while the odds currently favor Mary, experts believe they will soon shift to favor Alice, as it is the name of Prince Philip's late mother and the name of one of Queen Victoria's daughters.
"Will and Kate have been keen to pay tribute to both sides of the family, so I would love to see Alice, which is undergoing a resurgence in terms of being cool," CNN's royal correspondent Victoria Arbiter said. "And Prince Philip's mother was quite an extraordinary woman, so it would be a lovely tribute."
And just in case you're wondering, yes, bookies are also taking bets about Meghan Markle and Prince Harry's upcoming wedding. Right now you can apparently gamble on whether Elton John will sing, whether the Obamas will attend, whether the royal ginger will shave his head, and who will design Markle's wedding dress.
This post has been updated throughout.