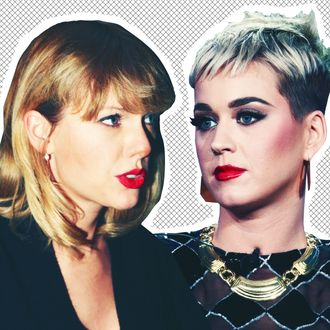 Taylor Swift, Katy Perry.
Photo: Getty Images
It's been quite the month in Katy Perry news: She gave a boy his first kiss on American Idol and has been embroiled in a legal battle with a group of nuns over property in L.A. But amid all of that, Perry is still giving the people what they really want — reasons to believe she dislikes Taylor Swift.
When a contestant on American Idol apologized to Perry for saying that he loved Swift and looked up to her as a musician, Perry said, "I love her, as a songwriter, as well." Then she made a face most accurately described as "¯\_(ツ)_/¯" and looked away.
The two singers have been publicly feuding since Swift called them "enemies" in a 2014 Rolling Stone interview. They've been fueling the feud fire ever since, most recently when Perry may have seduced Karlie Kloss away from Swift's girl gang. But hey, she loves Swift as a songwriter still!