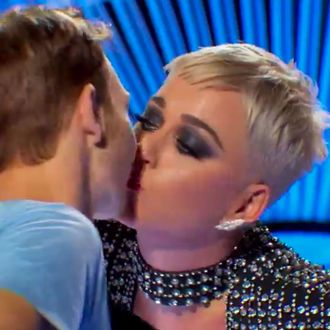 Benjamin Glaze, Katy Perry.
Photo: ABC
Just days after we learned that a nun in a legal battle with Katy Perry died in court, we're getting news that [touches earpiece] the pop star ruined an American Idol contestant's first kiss. What a week!
The recipient of said kiss was 19-year-old Benjamin Glaze of Oklahoma; it occurred last October but aired during the show's season premiere on Sunday. During his audition, judge Luke Bryan (who I've just learned is not Blake Shelton) asks Glaze if he's ever "kissed a girl and liked it?" He says no and, short story even shorter, Katy Perry ends up surprising him with a kiss.
The New York Times then tracked Glaze down, who admitted to them that he was actually kind of disappointed by Perry's kiss and would've turned her down if she had asked him:
"I was a tad bit uncomfortable," Mr. Glaze said by phone this week, after the incident aired on the season premiere. His first kiss was a rite of passage he had been putting off with consideration. "I wanted to save it for my first relationship," he said. "I wanted it to be special."
But he ultimately decided that it didn't count:
When he returned home, Mr. Glaze worked through his feelings about the kiss by talking to his friends. "They agreed with me that it didn't really count," he said. "It was lip contact versus a romantic situation with someone you care about. That's what a real first kiss is."
As for his music, Glaze was rejected after his audition.