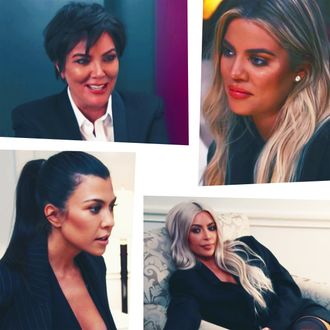 Dolls, last night we laid to rest the 14th season and 10th year of Keeping Up With the Kardashians. In the place of a eulogy, I offer to you one final #KUWTKE for this season in our lives, and I hope you cherish it forever. For last night's episode, our A plot was pregnant Khloé's sex reveal, our B plot was the Kardashian sister trip to San Francisco, and our C plot was Kim's attachment to her upcoming baby. On the count of three … #LEGGO!
Scene 1:
At Kris Jenner's home, or Calabasas's most esteemed day-care facility, Kim Kardashian tells her mom and two Kardashian sisters about her date night with Kanye West. The night before, our dearest Kimmie thought her husband was simply treating her to a night at Nobu. But boy, did he have a surprise for her!
Along with sushi, Kanye West treated Kim to a private Dave Chappelle show. Kourtney, one of the most shocking Dave Chappelle fans of all time (I mean, she's the only one with 100 percent alabaster children, ya feel me?), is livid that Kim didn't extend an invitation, simmering down only once she understands that Kimberly had no intentions of leaving her sisters out.
Since her sisters weren't there, Kim wants to make sure they have a clear picture of all the other celebrities who were in attendance, like John Mayer and Eddie Murphy. Kris, relatively silent until now, peeps her daughters name dropping, joking that she's picking them up off the floor. Looks like someone is preparing a tight 5, Kristen!
After properly making her loved ones jealous, Kim tries to garner some well-deserved sympathy regarding the compromised security of her surrogate. At this point, various media outlets have published photos of her surrogate, which could potentially jeopardize her safety. Kim's also anxious because the surrogate seems to have a similar issue with her placenta that Kim did while she was pregnant with both North and Saint. If this is the case, she'll have to deliver early and have a C section. This scene was filmed on September 13, 2017.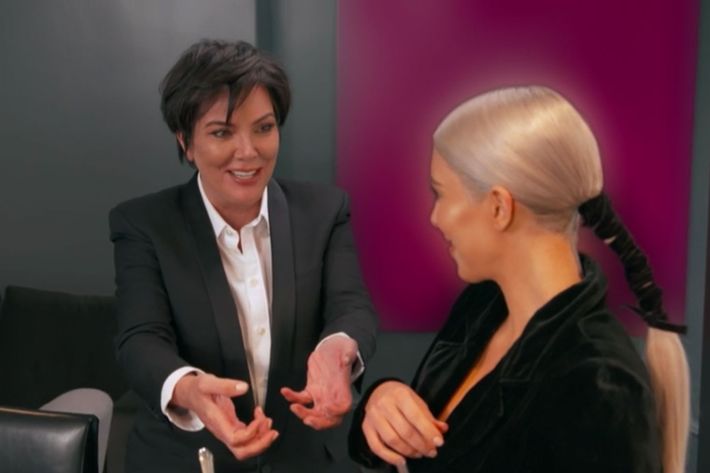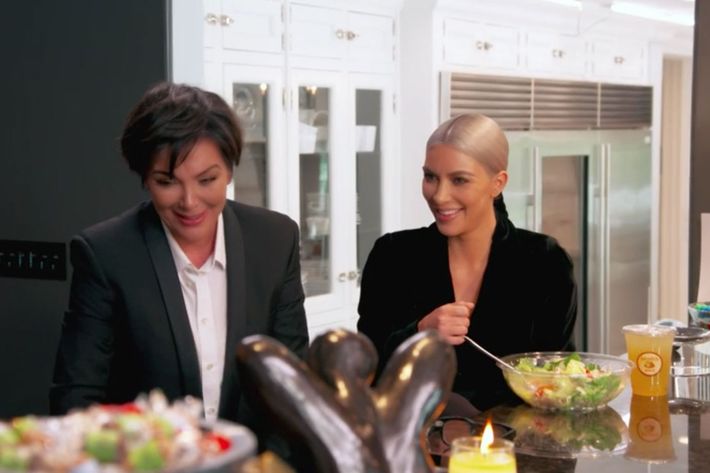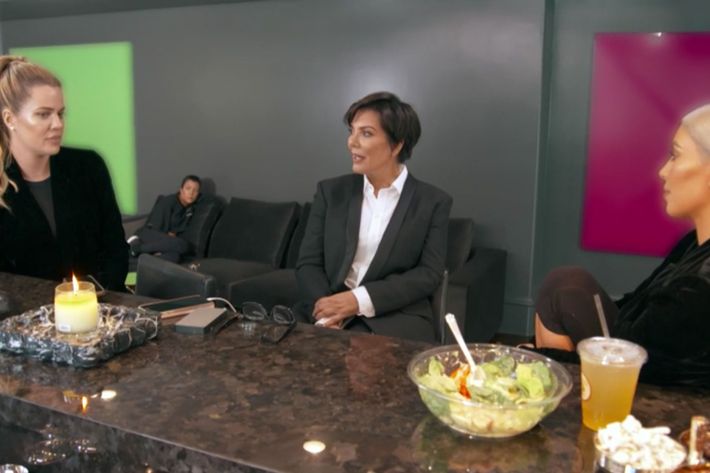 Scene 4:
To help her sister form a strong bond with her upcoming daughter, Kourtney takes Kim shopping at middle-class mecca Buy Buy Baby. Kourtney walks around the store pushing a cart as Kim eyes toys and trinkets she'd want to get for North and Saint, but not her soon-to-be newborn. Even when Kourtney suggests items for Kim to buy, Kim shrugs and decides that she'll figure everything out later.
Kim explains she's not having much fun on this shopping trip because she's not planning on having a registry or a baby shower. This is really shocking to Kourtney, who firmly believes that Kim should at least have a celebration to welcome the newborn into their family. In the end, Kim leaves with toys for her older kids, and washcloths for the baby. This scene was filmed on October 9, 2017.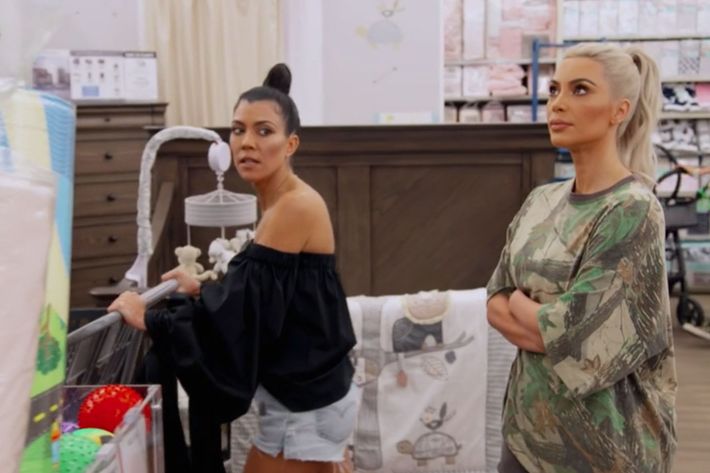 Scene 6:
Before two out of three of the Kardashian sisters become mothers for the third and first time, the trio decide to take a quick trip to San Francisco. Kim's super-excited because she jets there often to work on her mobile game, Kim Kardashian Hollywood, and is excited to show her sisters more of the city she loves. The other two are excited as well, though Kourtney is worried that while she's gone, Scott will treat her home as his.
When the sisters arrive at their penthouse suite in San Francisco, they're given a tour of the rooms, and they appropriately "oohhhh" and "ahhh" at the old art and secret doors. Apparently, they're staying in the suite that President John F. Kennedy stayed in during his visits to San Francisco, during which Marilyn Monroe would enter into his room via the secret door.
While Kim is the only one who dares venture off into the hidden upper levels of the suite, the sisters are all impressed. Even Kourtney, who might as well have glued her phone to her head. After the tour, the sissies enjoy a light lunch of salads, fries, and water in Champagne glasses. Over their leafy greens, Khloé explains how anxious she is about learning the sex of her baby. She's made a plan with Kylie, who will be getting the call from Khloé's doctor and then calling Khloé to tell her the news. (Needlessly complicated, but guess what, it's not my baby.) Khloé, still shook by the news of her pregnancy being leaked, has decided that her immediate family should be the only people to know the sex of the baby before she tells Tristan. She's hoping to tell him on her next trip to Cleveland, and she wants to make it a big, fun moment. This scene was filmed on October 12, 2017.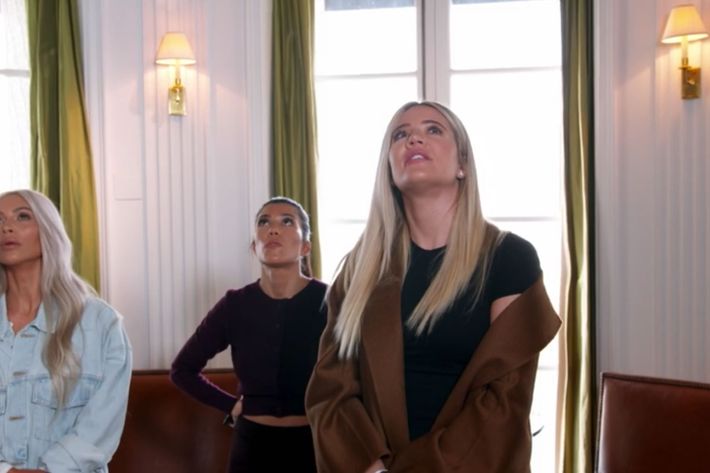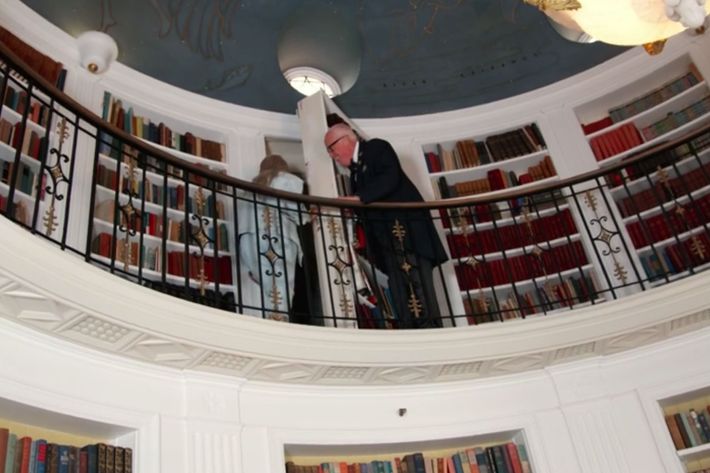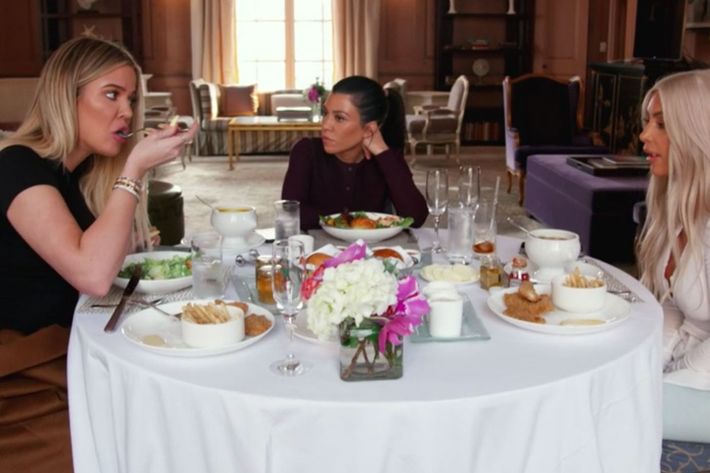 Scene 8/Scene 9:
Later that night, Kim, Khloé, and Kourtney prepare to leave their hotel for their first dinner in San Francisco. The evening gets off to a bumpy start because Kourtney, who remains on her phone, is keeping her sisters waiting. When Khloé tries to call Kourtney to get an ETA, Kourtney ignores her call, but saunters in a bit later while chatting on the phone to Larsa Pippen. Khloé yells that Kourtney is being disrespectful by holding them up and making them wait on her; this sort of behavior, she says, makes it more and more likely that Khloé will stop traveling with her sister all together. Kourtney can't understand why Khloé is so upset. Kim just looks at her sisters and says nothing.
The family finally makes it to dinner, during which Khloé just can't stop asking Kim questions about her baby. Like Kourtney, Khloé's trying to get Kim more hyped up about becoming a mom for the third time, and she thinks talking a lot about the baby will help. Khloé's particularly interested in the temperment of the child, and whether or not that will be determined by her genetics or the woman carrying her. Kim doesn't seem to care. After staying relatively silent, and on her phone, Kourtney perks up to tell her sisters that she had to dispel rumors that she, too, was expecting because of random magazine reports. Like Scene 6, these scenes were filmed on October 12.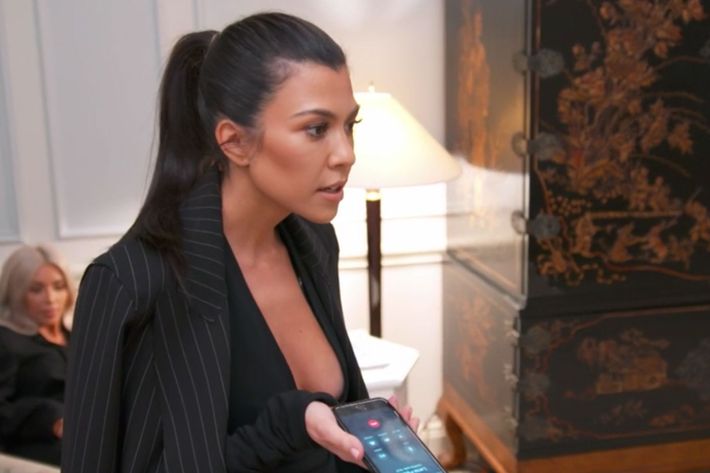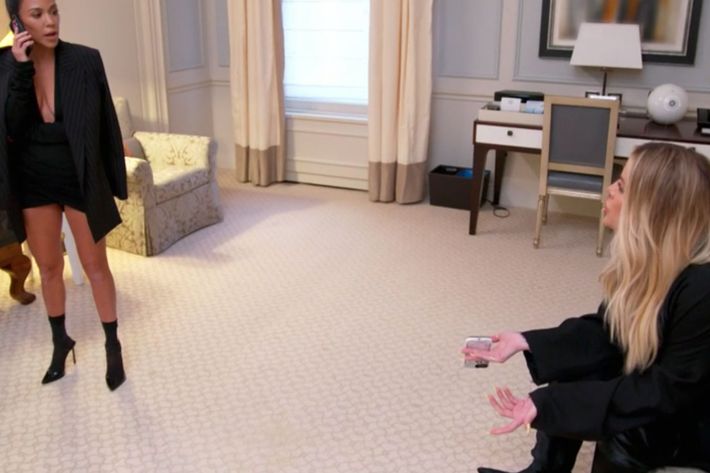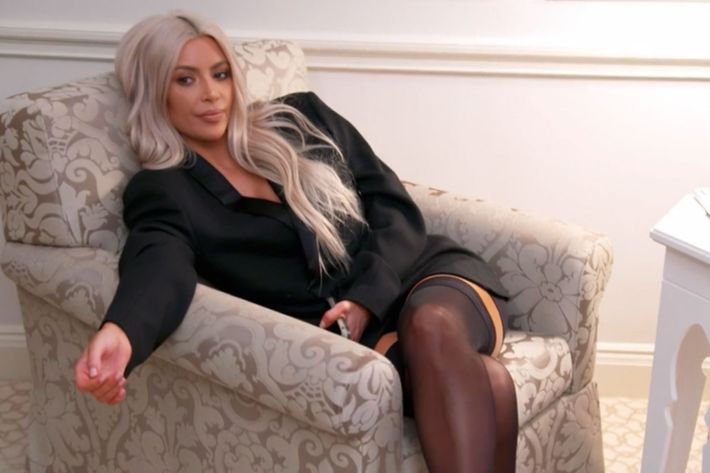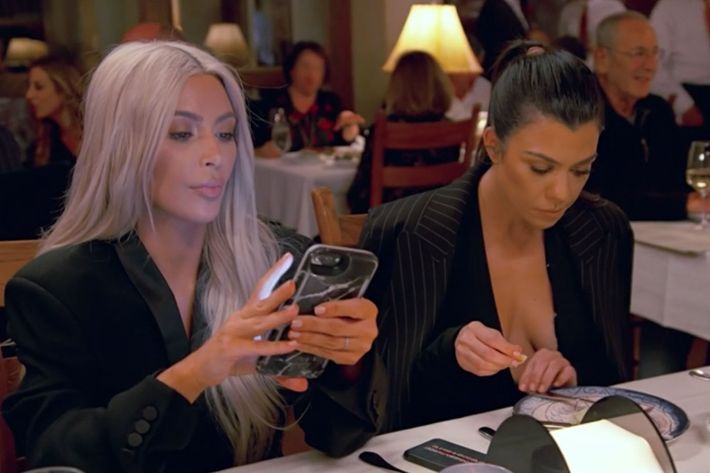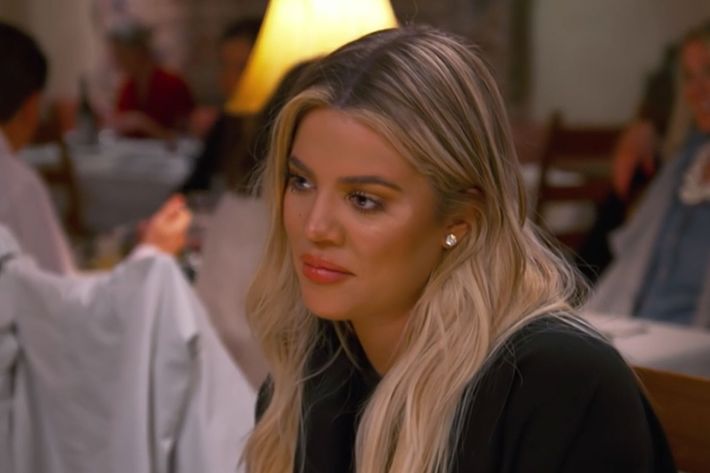 Scene 11:
Since the sisters are only in San Francisco for one night, they have to make the most of their time, which they decide to do by taking a boat ride to Alcatraz. On the boat, Kourtney and her phone sit in a pile of blankets as they comfort one another. Just kidding, my therapist told me that phones are not to be used for comfort, just communicating. What I'm trying to say is Kourtney was on the phone again, and this time Mason's mother shot the cameras a deadly look and asked them not-so-nicely to not film her while she was taking a call. This pisses her sisters off, especially Khloé, who calls her sister a "waste." Kim just thinks Kourtney has an issue being "present" and is most likely dealing with some baby daddy and baby boyfriend drama with Scott and Younes. While still on the phone, Kourtney tries to insert herself in her sister's sightseeing by pointing out the Ghirardelli's sign, but Khloé tells her to shut her gluten-free mouth immediately!
Once Kourtney is finally off of her private phone call, she tells her sisters that ten minutes on the phone does not make her a terrible person. Unfortunately for Kourtney, her sisters kind of think that it does, but Khloé is currently refusing to show her anger. To this, Kourtney calls Khloé a "pregnant whore." That particular insult seems to put all their water under the Golden Gate Bridge, because they start to laugh and joke with one another as their boat pulls up to Alcatraz.
The sisters get a private tour of the Alcatraz prison, and when they make their way to a dungeon that was used to torture prisoners by keeping them in complete darkness for days on end, Kim obviously records a video of herself in the dark. I'm so proud of them. This scene was also filmed on October 12.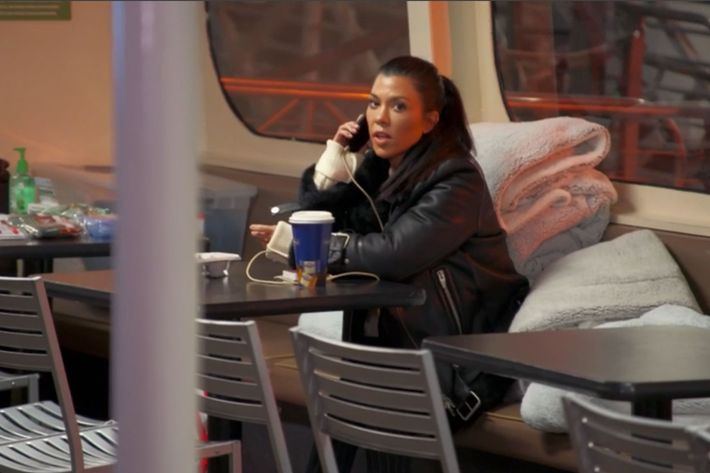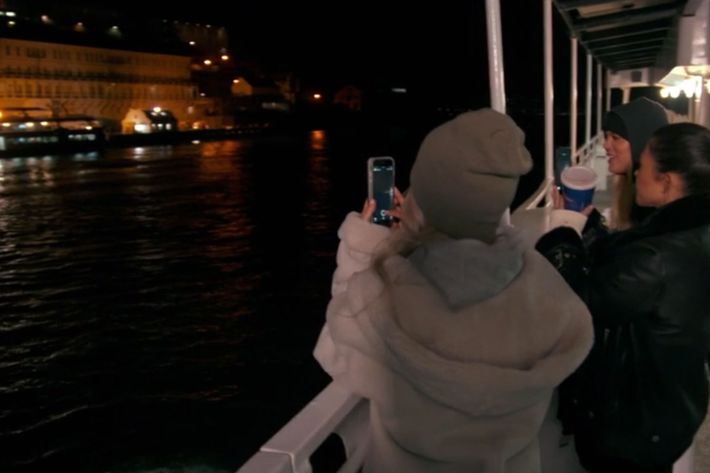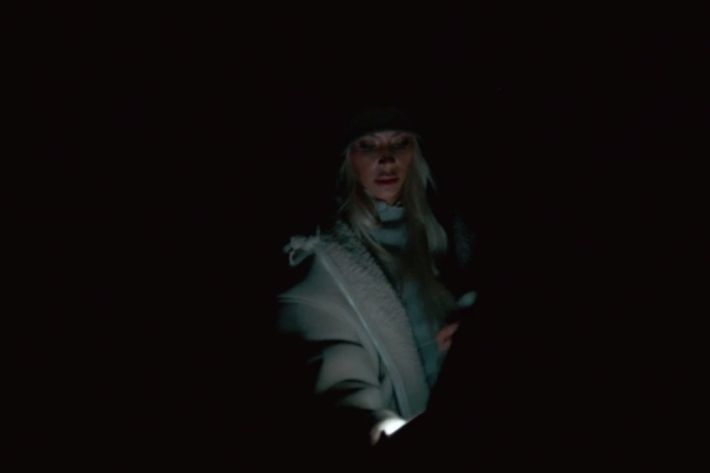 Scene 12:
The following morning, the Kardashian family and their production team continue to try and come for my #KUWTKE wig by showing Khloé's Snapchat and Khloé taking the actual snap. Yes, this is a form of cyberbullying, but I will persist.
And so: Over breakfast, Khloé snaps a fire alarm going off at the restaurant. Once the noise has stopped and the threat of danger is gone, the sisters get down to business. Kourtney, the crunchiest Kardashian sister, wants to try an old-wives trick of looping a ring through a stand of hair to determine the sex of Khloé's baby. Kim's the only person with her hair down, so it's her hair they'll use for this witchcraft. If the ring moves in a straight line across Khloé's palm, the superstition goes, she's having a boy, but if it moves in a circle, she's having a girl.
As soon as Kourtney places the ring above Khloé's palm, it moves in big circles, indicating that her baby will be super girly. Khloé, spooked, wants to try it on Kim. As it did on Khloé, the ring moves in a circle, confirming Kim is having a girl. The fun sort of stops when Kim places the ring above Kourtney's hand, and instead of moving in a straight line or circle, it stays still. Basically, Madame Kourtney K. is closed for business. This scene was filmed on October 13, 2017.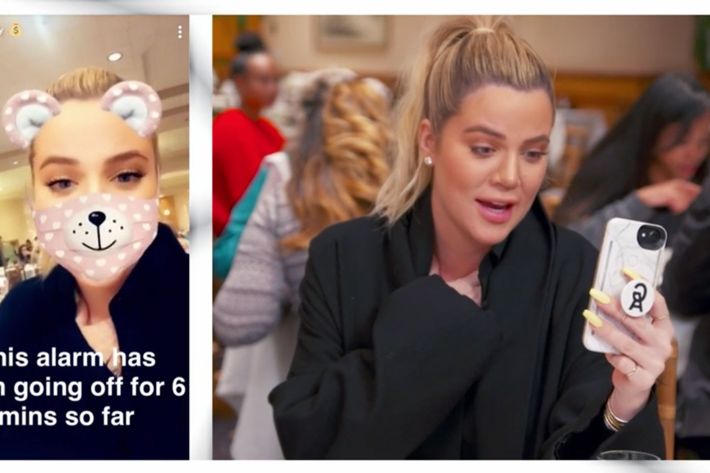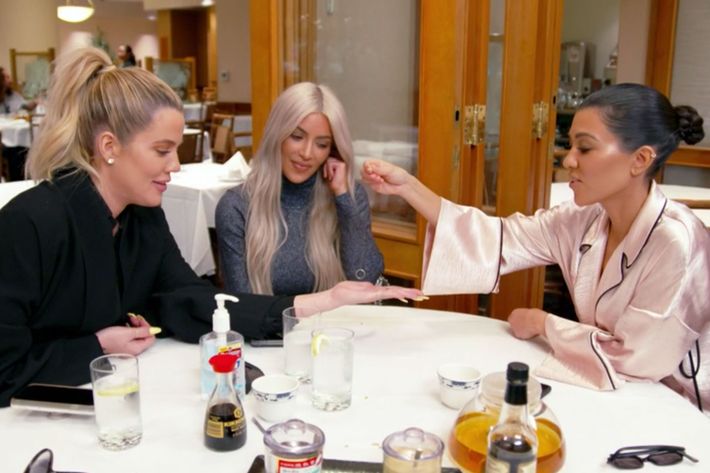 Scene 13:
With Kim by her side, Khloé waits anxiously by her phone for Kylie's call. Khloé knows the results are in; her doctor already texted saying all her tests were normal and that she'd be calling Kylie soon with the sex. Once Kylie does call, she prolongs the reveal, asking who Khloé's with and making sure Khloé truly wants to know. Khloé hurries her youngest sister up, and rather uneventfully, Kylie says that Khloé is having a GIRL!
Khloé doesn't really react. Instead, she asks Kylie if she's joking. Kim is excited and tries to amp up her sister, who literally scrunches up her face like someone farted on a plane and she can't escape. Khloé wanted a son, badly, partially because she wanted her future daughters to have older brothers, since she never did. (Note: Khloé's daughter will, in fact, have an older brother, as Tristan left his son's mother to be with Khloé back in 2016, when his ex was pregnant with his son. So, she's all set.)
When Kourtney learns Khloé's having a girl she's shocked but happy, as is Kris, whom Khloé calls shortly after finding out. Kris tries to quell Khloé's anxieties by basically telling her it's easier to keep around the father of daughters because they feel more of a bond to them. Kris adds that Tristan will fall more in love with his baby girl than he ever will with Khloé. Which actually makes Khloé more upset; now she's wondering if she'll be jealous of her daughter. This scene was filmed on October 13, just like Scene 12.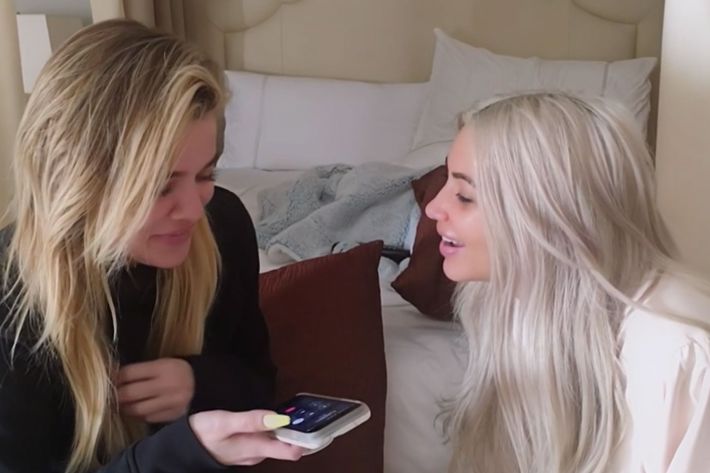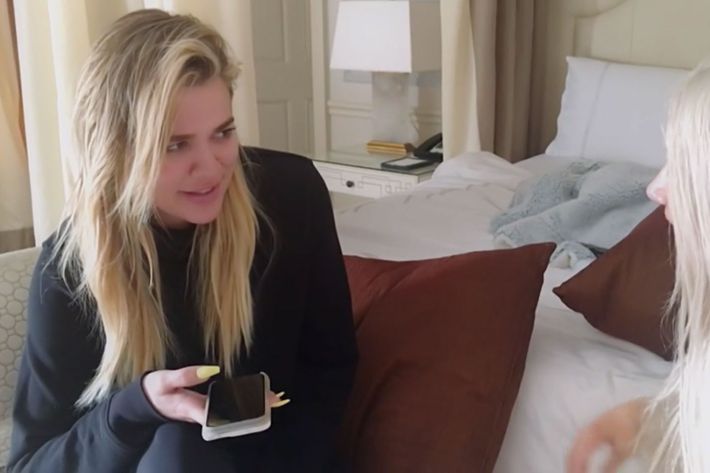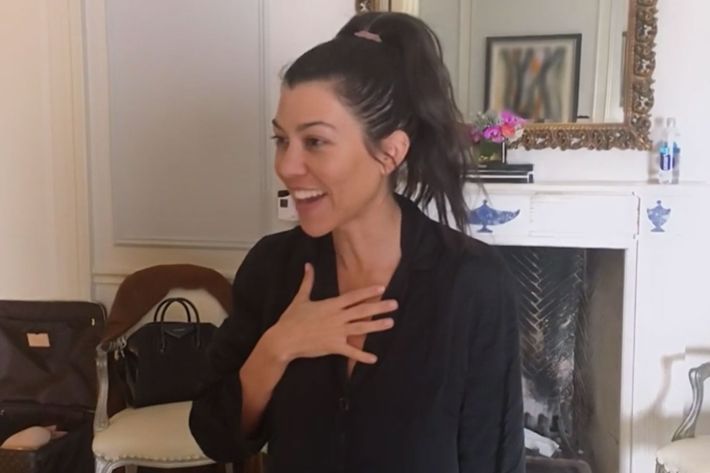 Scene 17:
Back in Calabasas, Kimberly invites her surrogate La'Reina over to Kris Jenner's so she can get to know her family. Kim wants to invite her family more into her process, and though she's not ready to reveal her surrogate's face to the world (or cameras), she is ready to introduce her to the fam. La'Reina seems nice and normal as she chats with Kylie and Khloé about being pregnant and expecting babies around the same time; she also talks with the family about why she loves being a surrogate and simply treats it like a job. Everyone seems genuinely interested, even Kendall Jenner.
Kim and La'Reina also have some great news for the family: La'Reina won't need a C section since her placenta worked itself out and her birth canal is cleared and good to go. It's a wonderful scene to end the season on, despite the fact that I'd have loved a look at Kim's Cherry Blossom Baby shower (which she apparently decided to have between her Buy Buy Baby trip and now), since that was the same day this scene was filmed on November 11, 2017.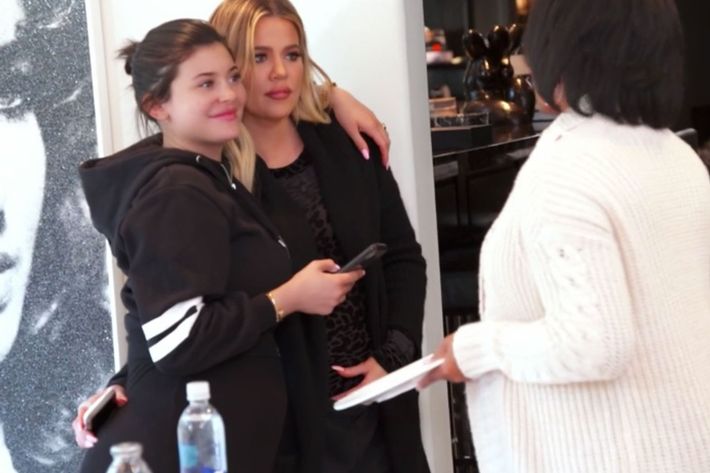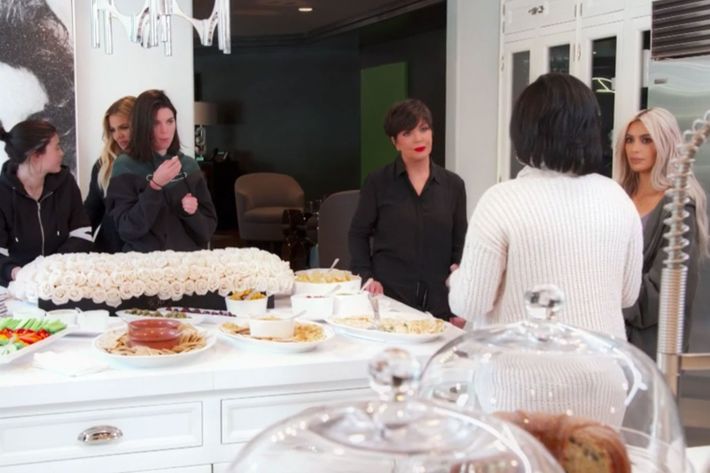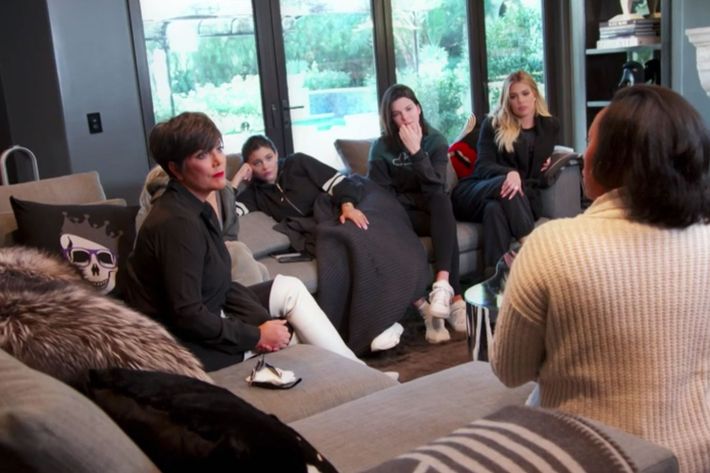 What a wonderful and secretive season it's been, dolls! I can't wait to do this with you once again in a few short months for season 15 of Keeping Up With Dear Lord What Will Khloé Name Her. #KUWTKE