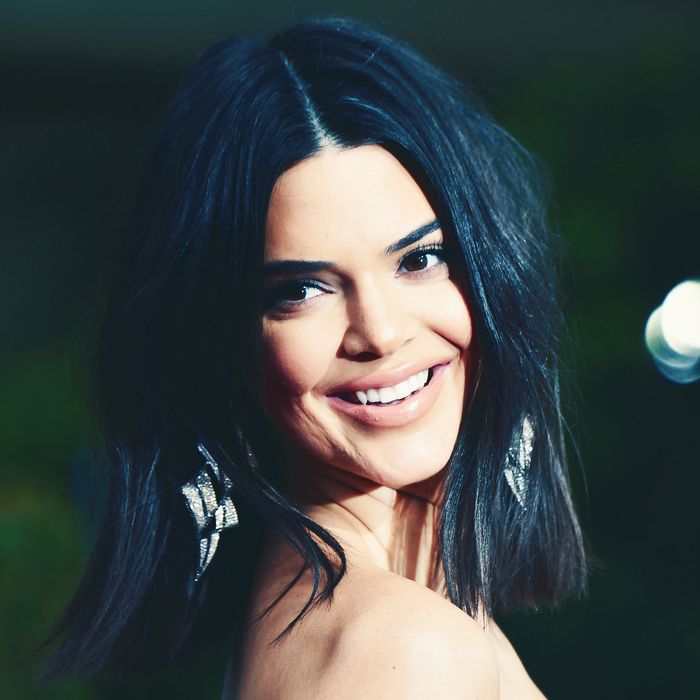 Kendall Jenner.
Photo: Frazer Harrison/Getty Images
Perhaps you have heard the rumors that Kendall Jenner is secretly gay. Perhaps you've heard that her friendship with Lauren Perez was actually a secret love affair, or that her friend breakup with Cara Delevingne was actually a romantic falling out. Perhaps you have read the website babe.net, where they claim to have "evidence" for days. Perhaps you have really been hoping this is all true.
Alas, Kendall Jenner has also heard these rumors, and she would like to set the record straight: she is not gay.
As she tells Jonathan Van Meter in a new Vogue profile:
"I don't think I have a bisexual or gay bone in my body, but I don't know! Who knows?! I'm all down for experience — not against it whatsoever — but I've never been there before." She ponders it for a moment. "Also, I know I have kind of a … male energy? But I don't want to say that wrong, because I'm not transgender or anything. But I have a tough energy. I move differently. But to answer your question: I'm not gay. I have literally nothing to hide." She lets out a mordant chuckle. "I would never hide something like that."
Jenner adds that people probably speculate about her sexuality because she tends to keep her romantic life private.
"I think it's because I'm not like all my other sisters, who are like, 'Here's me and my boyfriend!'" she explains. "So it was a thing for a minute because no one ever saw me with a guy. I would always go that extra mile to be low-key with guys, sneaking around all the time. You don't want to, like, look crazy."
According to the profile, she is dating the Detroit Pistons' Blake Griffin, and they are very happy.
She refuses to confirm this fact, but one of the reasons we can be fairly certain is that the day after Valentine's Day she calls me from Michigan, and when I ask why she's there she says coyly, "I'm visiting a friend." When I ask point-blank if she has a boyfriend, she says, "I like my private life." Pause. "Yeah … no. I'm happy. He's very nice. I have someone being very nice to me."
Ah, well: there's always Taylor Swift.