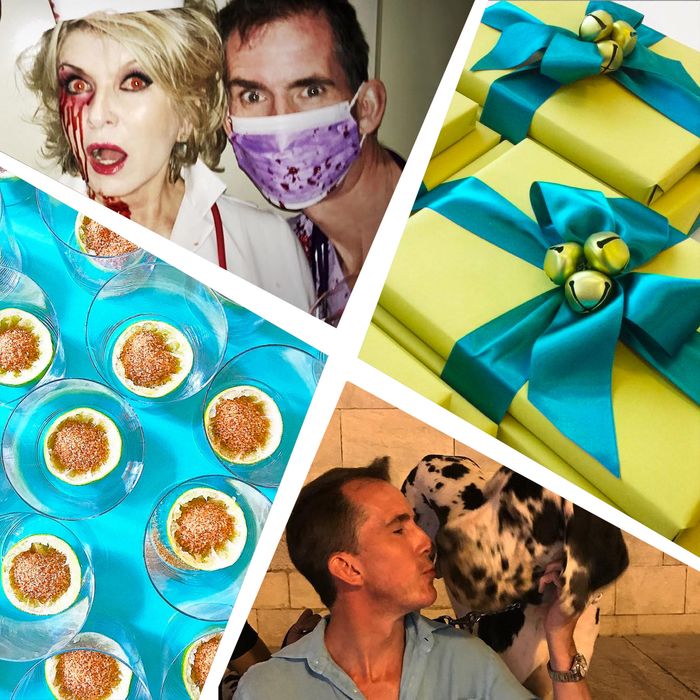 Photo: seenbysharkey/Instagram/seenbysharkey/Instagram
Lifestyle magazines are all about aspiration, which is code for making people envy you and shop accordingly. In our series I Like This Bitch's Life, the Cut bitterly admits that it's working.
In the March issue of that gospel of our domestic faith, Martha Stewart Living, Kevin Sharkey — Martha's longtime decorator, collaborator, and the closest thing to a best friend that a woman made of candied lemon peels and sensible beige drapes can have — poses knowingly by an enormous stone birdbath. With his long patrician face and smartly combed salt-and-pepper hair, Sharkey is there to show off the fruits of his and Martha's flower-arranging labor with their newest book, Martha's Flowers: A Practical Guide to Growing, Gathering, and Enjoying. (Like any good bestie, Kevin doth not protest too much about the fact that this is Martha's book, bitch, and his name is just sorta scribbled into the fine print.)
Kevin, you see, started out as a mere style assistant, but two decades later he's the executive director of design for the entire Martha brand. He's the Gayle to Martha's Oprah, traipsing around all her estates (in East Hampton and Katonah, New York; Seal Harbor, Maine; Westport, Connecticut) with the freedom to snip flowers as he pleases. Can you imagine the gumption it takes to waltz into Martha's 150-by-90-foot cutting garden, take scissors to her lilacs, pick a vase from her vast collection of hand-blown glass and just do your thing? Kevin can.
Because Kevin's life is a buffet of Martha-created riches. Everywhere Martha goes, Kevin is sure to follow. If Martha bumps into Usher at an industry event, there's Kevin! If Martha spends the long summer holiday weekends hiking through Acadia National Park, Kevin does too, and he even has a hashtag for it. #Campskylands forever. Dyeing Easter eggs with all-natural vegetable hues and then arranging them into an ombre fade? Kevin! Designing the Thanksgiving tablescape at Martha's highly coveted Thanksgiving table? Kevin is in the house.
If you've ever thought to yourself how delightful it would be to plan and execute just one craft or meal with Martha's talent and zeal, then imagine life as Kevin, who just gets to show up and eat the bounty of her chef-prepared birthday dinner at her Skylands estate — and is seated at the head of the table. Need receipts? Here's Kevin's Instagram of his name etched into the tree bark used as a place card at the intimate dinner.
A trip down Kevin's Instagram memory lane is a stroll through Martha's flower fields, kitchen drawers, and holiday décor. He essentially lives in the pages of Living. Kevin once spent the day tasting cookies from the Martha Stewart test kitchen. He wakes up to immaculately trimmed shrubbery coated in mist at Cantitoe Corners, Martha's self-sustaining farm and home in Connecticut. On Christmas Day, he sits beneath one of Martha's many trees, this one festooned with gold tinsel and larger-than-life mushrooms, like something from a Grimms' Fairy Tale acted out by the stage decorators of The Nutcracker.
You must be wondering: Surely Martha loves her other colleagues just as much as she adores Kevin? Well, I own every issue dating back to June 2008 and Kevin is the only person besides Martha to appear on the cover. Even her cats, whose lives we also like, don't make as many appearances as Kevin.
If you're worried that, when Kevin heads home after a long weekend of canoeing through the crystalline waters of Martha's Maine estate, he has to endure a lesser-than-perfect domicile, fear not. In 2010, Kevin rather curiously moved from a 400-square-foot studio "with a twin Murphy bed" to a 2,500-square-foot condo overlooking the Hudson in Greenwich Village that may or may not be attached to Martha's daughter's glorious triplex. It is quite the real-estate leap for somebody working in print media, but maybe Kevin saved his pennies for a long time.
His new pad — a study in beige, swathed in the type of silks that rich old ladies flock to — was documented with a ten-page spread in Living, with a two-page addendum focused solely on his black-tie housewarming party. (Martha was, distressingly, not in attendance, although a large stack of orange Hermès boxes did take over Kevin's shower.) If you're proud that you once "pulled a Martha" by hole-punching a daisy design into some folded paper and using it to make place cards, let it be known that Kevin passed around Chanel lipsticks on a silver tray and let guests use them on mirrors to keep score of their table-tennis games.
Perhaps most maddeningly, if you follow Martha — and boy do I ever — she seems the picture of warmth and kindness, always making note of the many people who staff her homes and thanking them by name. I bet she is really, really, nice to Kevin and just thinks he's the greatest. And he probably is. Dammit, Kevin.
Then again, Kevin's first-ever Instagram is just begging to be translated as a metaphor for their relationship. On a gravel-lined drive in front of Cantitoe Corners, Kevin holds a massive flower arrangement just bursting with peonies and smokebush. His face is entirely obscured, and he bends backward under its beautiful, beautiful weight. Martha stands in front of the flowers, lightly dusting off just the tiniest smudge from the footed vessel. Kevin calls it his "favorite picture of Martha and me."
Nonetheless, I like this bitch's life: it's a good thing.