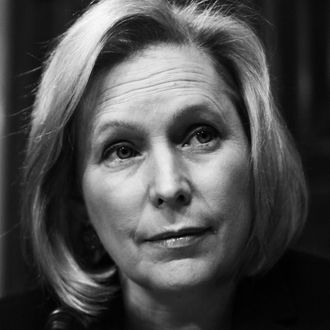 Senator Gillibrand.
Photo: Zach Gibson/Bloomberg via Getty Images
With actress and activist Cynthia Nixon declaring her candidacy on Monday, the 2018 New York governor's race is officially heating up. And now, we slowly find out who out there is a Cynthiac and who's a Cuomo Bro. (It's safe to say that the third Democratic candidate, Terry Gipson, is just the Martin O'Malley here.) Senator Kirsten Gillibrand, for one, has firmly stood by the governor.
"Kirsten is a friend of Governor Cuomo's and supports his campaign," her spokesperson told the New York Daily News today. "He's been a leader on issues she cares deeply about like marriage equality, paid family leave, and campus sexual assault to name a few. She believes he deserves to be reelected."
When asked about what Senator Chuck Schumer would do, she told Politico, "You'll have to ask him. I'm sure he'll do the same."
As for other developments — former City Council speaker, one-time mayoral candidate, and former Cuomo employee Christine Quinn slammed Nixon as an "unqualified lesbian" on Tuesday, while law professor and 2014 gubernatorial candidate Zephyr Teachout heartily endorsed her run.
We wait with bated breath and a bowl of popcorn for Bill de Blasio's take.