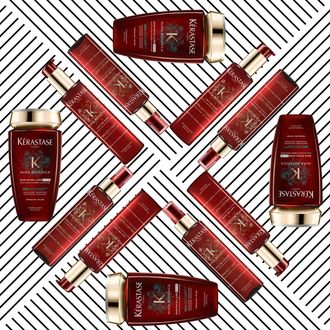 Photo: Courtesy of Kérastase
Bouncy beach waves in the vein of Gisele Bündchen have become a classic hairstyle that so many products have tried to bottle up. Most of those wave sprays, mousses, or texturizers use salt to achieve that look, which makes sense, given the role of salty ocean water in creating the original inspiration for the effortless and carefree look. Kérastase created a modern take on wave spray and decided to swap the salt out for another surprising ingredient: sugar.
The Eau de Vagues is a blow-dry mist and wave spray that forgoes dehydrating and drying salt in favor of sugar, which the brand says results in "zero crunch factor." Instead of the stiff, ashy waves salt sprays create, Kérastase's mist is intended to keep hair soft and flexible, so there's no unnatural stiffness. It's also made with protecting and repairing aloe vera, so you're actually helping your hair instead of drying it out.
The mist is one of the newest additions to Kérastase's responsibly sourced, natural-origin collection, Aura Botanica. The other new products are the Lait de Soie and the Bain Micellaire Riche. The Lait de Soie is a blow-dry milk that's meant to control frizz in the most humid environments for up to four days, and the Micellaire Riche is a supple shampoo that gently cleanses dry, damaged hair. All of the products are free of parabens, silicones, and sulfates, which means hair stays hydrated, shiny, and protected from pollution. All three come out in April.