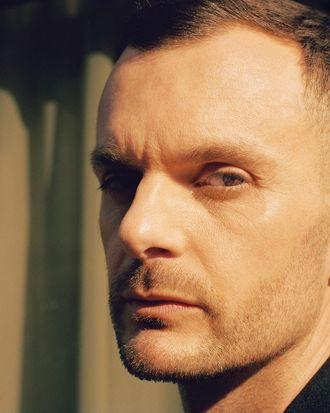 Kris Van Assche.
Photo: Tom Ordoyno
After 11 years at the helm of Dior Homme, designer Kris Van Assche announced that he would be stepping down from his position on Monday, to be swiftly replaced by Kim Jones, formerly of Louis Vuitton.
Van Assche, who is from Belgium, studied at the Royal Academy of Fine Arts before starting his menswear career under Hedi Slimane at Yves Saint Laurent. Assche then followed Slimane to Dior in 2000, when Slimane rebooted its menswear division. Since taking over for Slimane in 2007, Van Assche has become known for mixing youthful subculture motifs with refined tailoring.
On Friday, Document Journal published Van Assche's first interview since leaving Dior Homme. The designer sat down with one of French fashion's favorite musicians, Yoann Lemoine​, who goes by Woodkid, and writer Divya Bala​ for a wide-ranging discussion about everything from Instagram's effects on design to keeping up with industry's rigorous cycle. Read excerpts shared exclusively with the Cut, below.
On his aesthetic:
"I guess my work has always been about building bridges between youth and their culture, and a more traditional, elegant, and luxurious world. I truly believe I made young kids look differently at tailoring and luxury in general. At the same time, I have always worked on making luxury and tradition modern. It's definitely a two-way bridge."
On his last collection, which included tattoo motifs:
"It's funny because I was working with all these archives from Mr. Dior, which, for me, is the ultimate in good taste. It started feeling too perfect, too precious, so I felt it needed some bad taste. It was one of the first times I really went there. It's never cynical, it's really just to position things. You have the beautiful tailoring and then you have something strong to balance it out, but it works better because there is something to oppose it."
On Instagram's effect on fashion:
"Everything now needs to fit within an Instagram square. There's that and the speed of fashion, everybody's been talking a lot about it. There's really a lack of depth right now, I find. But stories don't fit in Instagram squares. And with all these in-between collections, mid-seasons, capsules, and collaborations, there seems to be less and less time for depth and for storytelling. So people tend to go quite brutal visually because that's all you're going to get as an explanation."
On keeping up with the fashion cycle:
"I'm so used to the rhythm. I'm not complaining about the rhythm. I just feel like there is a moment where we should accept that we are at the highest speed at which we can actually deliver quality. I feel like right now there is a weird moment where it could actually even triple, still, if you listen to people. With collaborations and so on, people don't think in seasons, but in drops, capsules, and projects. But people still give huge shows, so it all comes on top of shows. I feel like at some point you kind of have to accept the idea that not only can the designers not do more, but the clients can't integrate more, either. So I find that we've kind of reached a good level of intensity. I wouldn't want to go back to six months or a year per collection."
On reading bad reviews:
"Sometimes, something you were really believing in — a fabric, a story, a concept — just doesn't work out the way you feel it should. So there is such a thing as a personal deception, too. But then you get to do something new immediately, so you don't get time to cry either!"
On what's next:
"I've been here now for over ten years. I was 31 when I got here, and it's been an incredible adventure. It's been super enriching for me. So, I find that there are many options now. What's next, I have no idea other than a good vibe. Anything can happen. It's a weird moment in fashion because everything goes so fast; there's the musical chairs of creative directors, so there's a lot going on, but I feel more prepared than I ever was for whatever is next. So that's good. I have learned that hard work pays off."
Document Journal Spring/Summer 2018 will be on newsstands on April 5, 2018.