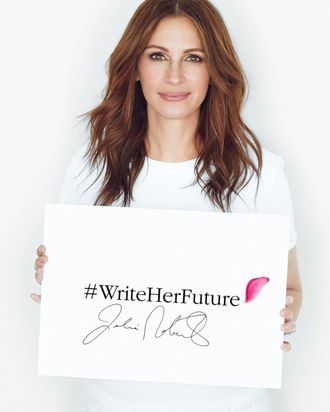 Photo: PRNewsfoto/Lancome
Lancôme is launching its first global philanthropic program with its new project, Write Her Future. As part of the project, Lancôme will donate at least 2 million Euros ($2.4 million) to literacy programs over the next five years. Lancôme also pledges to "develop local support communities for this cause," which is in line with Write Her Future's primary goal of raising awareness.
The beauty brand cites low self-confidence and reduced career prospects as some of the negative effects illiteracy has on the millions of women around the world who don't know how to read or write. Lancôme is also aiming to use Write Her Future to help improve women's health and lifespans.
"Often hidden, this handicap causes young women to face exclusion and dependence, with serious consequences for themselves, their families, and their close ones," said Françoise Lehmann, Lancôme's international president. "This is why Lancôme has committed to fight against young women's illiteracy and give a voice to this invisible reality."
Lancôme is working with Cooperative for Assistance and Relief Everywhere (CARE), a humanitarian non-governmental organization, which currently operates in 94 countries. So far, CARE and Lancôme are working together on literacy programs in Morocco, Guatemala, and Thailand, which are supposed to benefit up to 40,000 people, including 8,000 women. Lancôme is enlisting the help of their ambassadors like Julia Roberts, Isabella Rossellini, Taylor Hill, and Lupita Nyong'o to promote Write Her Future online. Those who wish to support Write Her Future can write their name and share it on social media to help raise awareness.