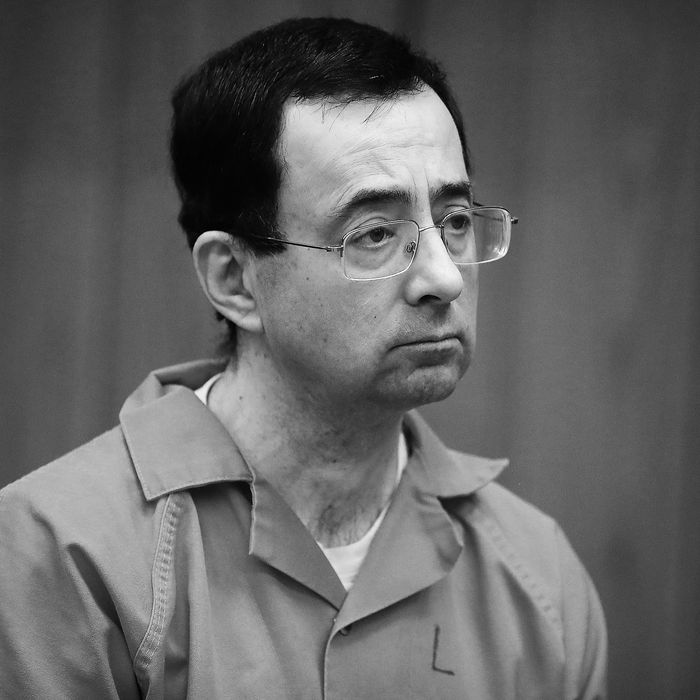 Larry Nassar.
Photo: Scott Olson/Getty Images
Jacob Moore, an 18-year-old freshman at the University of Michigan and former member of the U.S. men's junior national gymnastics team, has joined a lawsuit against ex–USA Gymnastics doctor Larry Nassar. Moore is the first male athlete to come forward with allegations of sexual abuse against Nassar.
Moore has accused Nassar of sexually abusing him in 2016, when he was only 16 years old. According to the complaint filed this week, Moore says he went to Nassar's house seeking treatment for a shoulder injury. Once there, Nassar allegedly brought Moore down to his basement, where he proceeded to expose the boy's genitals to a young female gymnast who was there, and then told him he would treat his shoulder injury "through acupuncture in his pubic area and in and around his genitalia."
"There is no known medical connection between shoulder pain which can be treated through acupuncture in the area of a male's genitalia," the complaint reads.
Earlier this year, Nassar received multiple prison sentences after being accused of sexual harassment and abuse by over 140 women and girls. One of the victims, Kamerin Moore, is Jacob Moore's sister.
In her victim-impact statement during Nassar's January sentencing hearing, Kamerin said: "I remember how absolutely mortified I was when you asked me if I had started my period yet because you couldn't do the treatment if I had a tampon in, and I remember becoming more uncomfortable and tense as your hand slowly massaged its way closer to my genitals."
Also this week, gymnast Aly Raisman announced she has filed a lawsuit against the U.S. Olympic Committee and USA Gymnastics for failing to properly address the allegations against Nassar.
"I refuse to wait any longer for these organizations to do the right thing," Raisman said in her statement. "It is my hope that the legal process will hold them accountable and enable the change that is so desperately needed."