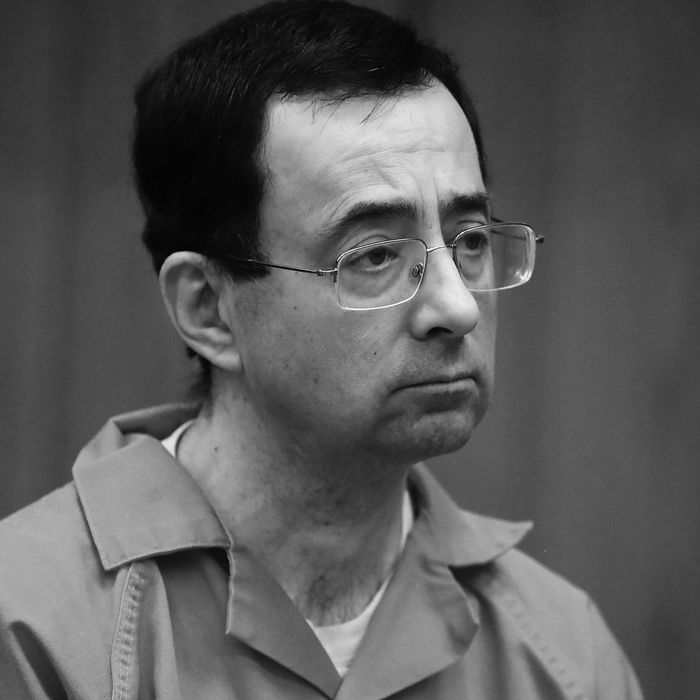 Larry Nassar.
Photo: Scott Olson/Getty Images
On Monday night, police arrested 70-year-old William Strampel, Larry Nassar's former boss at Michigan State University. According to the Lansing State Journal, an affidavit presented in court on Tuesday claims Strampel groped two female medical students, made sexually suggestive statements to others, and had pornographic images on his computer. He is also being charged with willful neglect for his handling of a 2014 sexual-harassment investigation into Nassar.
Lansing State Journal reporter Chris Haxel livetweeted the proceedings:
Strampel served as dean of Michigan State's College of Osteopathic Medicine from 2002 to December 2017, during which time he oversaw Nassar, the former USA Gymnastics doctor who was charged in January with sexually abusing over 150 women and girls. Since Nassar's trial, the office of Michigan's attorney general has been investigating Michigan State, and the university has begun the process of stripping Strampel of his tenure.
According to a letter sent to the school's provost in February from Carol Viventi, the vice-president and special counsel to Michigan State's president, Strampel "failed to monitor and enforce clinical practice guidelines put in place for former doctor Larry Nassar following the conclusion of a 2014 sexual harassment investigation."
Following the 2014 investigation, a report outlined strict protocol for Nassar and MSU to follow when he saw patients, including that he be required to wear gloves and have a third-party present when he was performing procedures in intimate areas. When Nassar was fired from MSU in September 2016 for not adhering to these protocols, Strampel admitted he had failed to enforce them. Then, in October, Strampel reportedly told a group of students and administrators that he did not believe the female patients accusing Nassar of sexual misconduct.
"Our clients are encouraged by the Attorney General's action today," John Manly, the attorney representing over 150 of Nassar's survivors said in a statement. "It demonstrates that he is serious about investigating the systemic misconduct at MSU that led to the largest child sex abuse scandal in history and holding the responsible parties accountable."