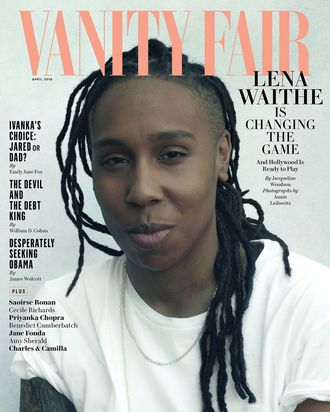 Lena Waithe.
Photo: Annie Leibovitz
As Vanity Fair's latest issue points out, the actress, writer, and producer Lena Waithe has a very long resumé at the age of 33, which now includes major magazine "cover star." In fact, writer Jacqueline Woodson declares that if you haven't heard of her by now, you should probably "check yourself for a pulse."
Waithe started her career in Hollywood in 2006 with "no family, no friends, and no money." She worked as a production assistant on Ava DuVernay's scripted directorial debut, I Will Follow, which essentially means she got coffee for Ava DuVernay and took out the trash. But DuVernay tells Vanity Fair that she took notice of Waithe, nonetheless.
In 2014, Waithe produced Dear White People. A year later, she appeared in Netflix's Master of None as Denise, a young lesbian and close friend of Aziz Ansari's character, Dev. She also wrote the show's "Thanksgiving" episode, for which she won an Emmy in 2017 — making her the first black woman to do so in the Comedy Series Writing category.
"For so many of us who have not seen an out Black lesbian front and center this way, her arrival is a small, long-awaited revelation," writes Woodson of Waithe's role on Master of None.
This year, Waithe created and executive-produced Showtime's The Chi, which is set on Chicago's South Side. She also produced the comedic dance film Step Sisters, and is the writer-producer of the recently greenlighted TBS television pilot Twenties, which tells the stories of three black women making their way in Hollywood. And she appears this month in Steven Spielberg's Ready Player One.
"I adore her," Spielberg tells Vanity Fair.
Needless to say, Lena Waithe has been busy. But she still takes what time she has left in her days to co-chair the Committee of Black Writers at the Writers Guild and work with Franklin Leonard's the Black List to foster new and overlooked talent.
When asked how winning an Emmy has changed her, Waithe responds: "It got me all these meetings that I go in and say I'm too busy to work with you — you should have hollered at me. You can take my call when I call you about this black queer writer over here who's got a dope pilot, or this person over here who's got really cool ideas, or this actress who's really amazing but nobody's seen her."
As for Waithe's Vanity Fair cover, which was revealed on Thursday, it signals a shift not only in Hollywood, but also the magazine, which is now led by Radhika Jones. In Annie Leibovitz's cover photo, Waithe wears a humble T-shirt, rolled at the sleeves like she's ready to go to work. There are two slender chain necklaces, but no other accessories. No designer credits. Her dreadlocks elegantly frame her head, which is partly shaved. We catch her in the middle of a moment, as opposed to in a staged headshot. She purses her lips, sans lipstick, in a smile that is both natural and maybe a little skeptical.
Inside the magazine, we see Waithe sitting on her couch with her girlfriend. Waithe in the kitchen making eggs. Waithe in the bathroom doing her hair. The only hint of "fashion" in this shoot is a photo of Waithe's large, enviable sneaker collection. As a whole, it is a refreshing departure from the glitz and glamour we're used to from Vanity Fair. And a promising step forward.