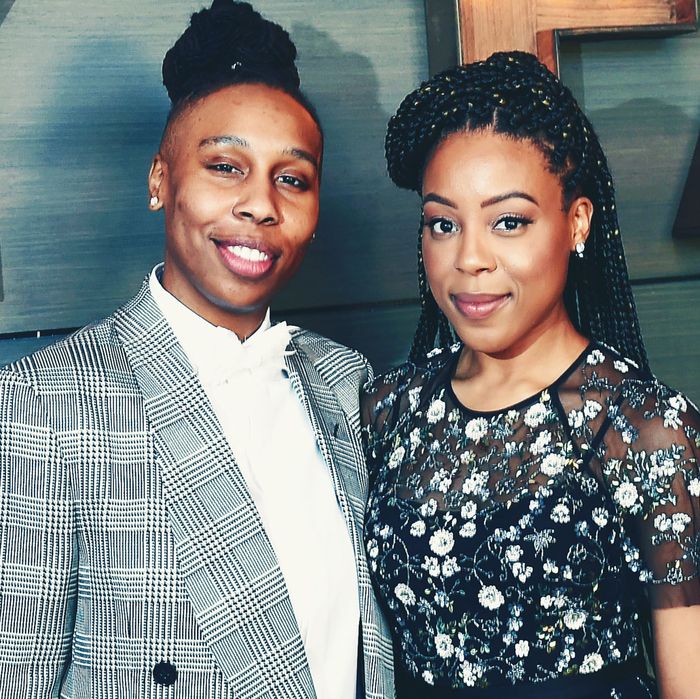 Lena Waithe and Alana Mayo.
Photo: Nicholas Hunt/VF18/WireImage
Fresh off the heels of her stunning Vanity Fair cover, the actress, writer, and producer Lena Waithe has not only been busy promoting her new movie, Ready Player One — but she's also been planning a wedding with her girlfriend, film production executive Alana Mayo. And now, Waithe is opening up about her wedding planning (and hectic schedule) in a new interview with People.
"It's a little nutty," Waithe, 33, told People. "I'm trying to balance it out, but I'm really grateful."
The Dear White People producer and Master of None actress explained that she and Mayo, also 33, are trying to keep their nuptials as simple and laid-back as possible. "It's going to be super small, crazy small. It's almost like an excuse to have fun with our friends," she said. "We're anti-stress. We're trying to make it not a stressful situation, that's our goal."
Waithe, who got engaged to Mayo last Thanksgiving, didn't delve further into her wedding details in the People interview. But back in September, she spoke of just how excited she was to one day marry Mayo — and what she'd like in a wedding.
"I think it'll be pretty fly," Waithe said at the time. "She's pretty fly. It'll be small and intimate, honestly, but she's also like a black Audrey Hepburn; she's old school classic, and I know I have a bit more of a swaggier style, so we complement each other really well. It'll be something small, intimate and very personal."
Excuse us while we cry tears of joy.