Four years ago, a 30-year-old writer named Leslie Jamison published an essay in The Believer titled "The Empathy Exams." In it, she described her life as a cash-strapped grad student moonlighting as a "Standardized Patient" to make ends meet. For $13.50 an hour, Jamison would feign the symptoms of preeclampsia, moan on her side in a fetal position, or try to stay straight-faced as she expressed concern about the doll she was cradling: "He's just so quiet."
"My job title is Medical Actor, which means I play sick," Jamison wrote in the widely admired essay. "I get paid by the hour. Medical students guess my maladies."
In retrospect, there was a double layer to Jamison's play-acting. The Standardized Patient in a crinkly blue gown was actually a Pacific Palisades–raised, Harvard- and Yale-educated whiz kid on a glittery comet trail of achievement. Jamison wasn't just impersonating a sick person but impersonating the sort of person who gets paid to impersonate a sick person. As the medical students flow in to diagnose her, Jamison can hardly resist spilling the beans: "I want to tell them I'm more than just an unmarried woman faking seizures for pocket money," she wrote. "I dothings! I want to tell them. I'm probably going to write about this in a book someday!"
And she did. Jamison churned out 11 more essays in a self-financed reportorial whirlwind that took her from the teaching hospital to Tijuana to the hills of Tennessee and eventually to the halls of Graywolf Press, the Minneapolis-based publisher that acquired The Empathy Exams.
Jamison investigated empathy as a cultural phenomenon, shining a light on those who are not always granted it: the incarcerated, the violent, victims of phantom diseases. Her goal, she told the Paris Review, was to "blend the professional texture of journalism with the weird feeling of someone peeling off a Band-Aid in front of you." But even as she documented the pain of others, the through-line was her own suffering: her history of anorexia, drinking, and self-cutting and the nebulous sadness she felt over an abortion she'd had several years earlier. "I realized that this causeless pain — inexplicable and seemingly intractable — was my true subject," Jamison wrote in the book's final essay, an oddly prescient cri de coeur of gendered rage and woundedness titled "Grand Unified Theory of Female Pain."
Essay collections rarely sell more than 10,000 copies. The Empathy Exams sold 80,000 and became a New York Times best seller. It earned glowing reviews and prestigious prizes, and vaulted Jamison into the literary firmament as a kind of emo Janet Malcolm — a journalist-polymath whose work incorporated reporting, literary criticism, psychology, and raw self-disclosure.
One result of this was that Jamison got "a little bit of a blank check" for her next project, says a senior editor at a New York publishing house. "Everyone was waiting to see what her next big subject would be."
On April 3, Jamison, now 34, will end the wait. The Recovering: Intoxication and Its Aftermath, picked up by Little, Brown as part of a two-book deal rumored to be worth seven figures, is drunkalog as doorstopper: a 534-page palimpsest of Jamison's battle with alcoholism, spliced with American social history, meditations on the politics of race, textual analysis, sex scenes, and craft-cocktail recipes.
The book is being hailed as the Greatest Addiction Memoir Ever Written. Stephen King calls it "required reading." "Dazzlingly brilliant," raves Mary-Louise Parker. On the front cover, Andrew Solomon, who chronicled his depression in The Noonday Demon, proclaims the book nothing less than a "Tolstoyan study of the human condition."
There's just one glitch. Recovery narratives usually follow a triptych structure. There's the drinking. The bottoming out. And then the part where you get your life back on track.
But what if your life never went off track? As readers of The Recovering will quickly deduce, Jamison takes the concept of high-functioning alcoholic to a dizzying new level. During her early-to-mid-20s, when she was in the throes of her moderate-to-severe alcohol-use disorder, she completed her undergraduate and graduate-school coursework, scored a high-powered agent, and published an acclaimed novel. She managed to do all this while rising at 6 a.m. each morning and heading to her job at the Deluxe Bakery in Iowa City, where she dipped ghosts in white chocolate and punched hundreds of leaves from a thin blanket of extruded cookie dough.
None of this is to suggest there's a right way to have a drinking problem or that every addiction story will follow the same arc. And no reader of this ambitious, provocative, lyrical, and occasionally maddening book could come away thinking that Jamison's youthful drinking didn't leave her ashamed, corrode her relationships, and to some extent compromise her work.
But memoir junkies who settle on the couch with Jamison's book and a bowl of buttered popcorn, anticipating the gladdening hit of Schadenfreude that comes from watching a privileged woman drink, smoke, or inject her life away, may feel nonplussed when the flameout never comes. Or maybe they'll just feel the hot tang of jealousy. Wow, I thought, as I absorbed the breadth and depth of Jamison's accomplishments, Leslie Jamison did all of that before age 30. And did it in the midst of a coked-up, Bacardi-and-Midori-fueled death swoon.
"She's an unstoppable force of nature," says Ben George, her editor at Little, Brown. "I'm not convinced there's only one of her."
Says her longtime friend Rachel Fagnant-Fassler, "I refer to her as Clintonesque. It's a particular blend of intelligence meets focus. She doesn't actually need physical rest or replenishment. She's not like the rest of us."
Leslie Jamison was born in 1983, the third child and only daughter of two brilliant and ambitious global-policy cynosures. Her father, Dean Jamison, is a Harvard-trained health economist and the brother of Kay Redfield Jamison, the renowned psychiatrist and author of An Unquiet Mind. Her mother, Joanne Leslie, is a prominent nutritionist and former professor of public health who wrote her doctoral dissertation on infant malnutrition in rural Brazil. "Alleviating global disease burden, a phrase I learned young," Jamison notes in her memoir.
Shortly after Leslie's birth, the family moved from Washington, D.C., to a glass-encased modern home in Los Angeles. Leslie attended the UCLA-affiliated University Elementary School (now known as the Lab School) and the Brentwood School. Family dinners were not for the faint of heart. "I can't remember a time when I wasn't trying to figure out what to say at the dinner table," Jamison writes. "Especially on French nights — when everyone was practicing a language I didn't speak."
Leslie struggled to keep up with her older brothers, Eliot and Julian — tall, distant demigods who were math geniuses and competed in ultramarathons and whom she loved "wildly, extravagantly." And she craved approval from her globe-trotting father — a charismatic, philandering "mileage king" — like she "craved perfect grades, perfect test scores." Emotionally, Leslie was closest to her mother; when she'd come home from school in a funk, her mom would whip out the scissors and glue gun and ask if she wanted to collage.
Leslie's parents divorced when she was 11, around the same time that her brothers, nine and ten years her elder, left for college. The Jamison family shrank from five members to two. The lesson for Leslie was that "people would probably leave," she writes. "It was just a question of when."
Did the men in Jamison's family carve a hole in her heart that she later sought to fill with booze? In The Recovering, Jamison plays down this explanation as a "depth-psychology fairy tale — airplane ticket stubs as smoking gun." You could collage about that until the cows come home. But it does seem that her childhood turned her into the particular kind of meritocratic striver that a friend of mine used to call the Iron Butterfly — bruised, sensitive, attention-seeking, but somehow flying steadily, relentlessly upward.
Jamison credits the Harvard literary magazine, the Advocate, and the social club she belong to, the Signet Society, for curing her of her painful shyness. She is well aware, she says, that both organizations are "saturated with Harvardian pretension, but they were where I found my voice. It was intellectual currency and drinking and a sense of belonging, all tied together in these artsy social spaces."
Emphasis on the drinking. "I found that when I was drunk, I wasn't putting every comment through the vetting process," she says. "I felt freer and looser." She started dating: a garbage-truck driver who looked like Morrissey and lived above a falafel shop; a "whip-smart Henry James acolyte."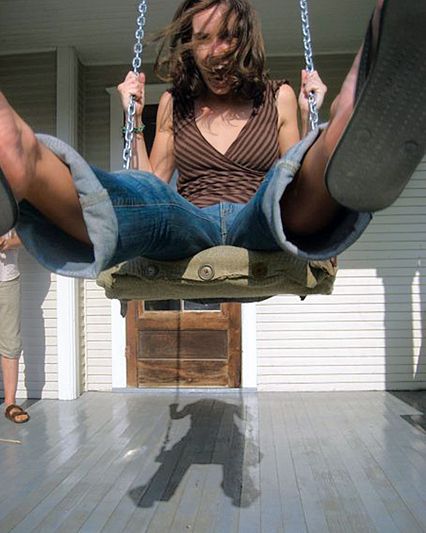 As Jamison tells it, her father's absence for stretches of her childhood led her to cultivate a kind of Victorian fragility. "There was something I liked about the dynamic: being cared for, being understood as vulnerable," she writes. She refused to wear a winter jacket, starved herself until she was lightheaded, and cut up her ankles until they were bloody.
Starting in her senior year, Jamison began to drink with increasing recklessness. And over the next five years, she continued to get tanked on screwdrivers, whiskey sours, hard cider, "the chilled salt slide of dirty martinis." During this time, she also graduated magna cum laude from Harvard; received her M.F.A. from the Iowa Writers' Workshop; sold her novel The Gin Closet in a deal brokered by Andrew Wylie and Jin Auh; and headed to Yale to pursue a doctorate in English literature.
"When I learned how drinking had affected her life, it was surprising," says Fagnant-Fassler, a fellow tippler in Iowa City. "We were all staying out until 3 a.m. drinking lots of wine. She was getting up at 5 a.m. to write or work at the bakery. The rest of us were getting up at noon."
A former therapist who now works as an executive recruiter in New York City, Fagnant-Fassler says it would've been hard to diagnose her friend as alcohol-dependent. "To diagnose someone, there has to be dysfunction. With Leslie, it didn't look like dysfunction. I assumed everything was fine. I only found out later that she'd go home afterward and have way more to drink on her own."
In 2010, at the age of 27, Jamison concluded her drinking had become unmanageable and got sober. These days, she lives with her husband, the novelist Charles Bock, in a Park Slope apartment on a picturesque, tree-lined block. They have two daughters: a newborn named Ione Bird and 9-year-old Lily, Bock's daughter from his previous marriage. (Bock's first wife, Diana Colbert, died of leukemia when Lily was almost 3.)
On this sunny February afternoon, Jamison, who is on maternity leave from her teaching post at Columbia University's writing program, greets me at the door. She is tall and slender and sports black leggings and an eggplant-colored nursing top.
On her left arm, stretching from elbow to wrist, is a tattoo of a quote from Terence, the Roman playwright: HOMO SUM: HUMANI NIL A ME ALIENUM PUTO ("I am human: Nothing human is alien to me"). She is wearing her baby in a complex origami-style wrap that goes around her back and over her shoulders. I immediately recognize the fearsome hip cross-carry, an advanced wrapping technique that can be mastered only by the most high-powered attachment-parenting ninjas. "Babywearing," Jamison says dreamily. "It was pitched to me as convenience, but now I experience it as a state of dependence. The last frontier of addiction."
Sitting in her book-lined study, we chat for a minute about babies. She's opted not to co-sleep — but not because she thinks there's anything wrong with it: "Intellectually, I know it's safe." Jamison navigates the alpha-mom minefields, from Magda Gerber to Ferber, with the finesse of a politician. "I'm reading this book now called Your Self-Confident Baby," she says. "The idea is not to rely on artificial means of consolation. But included in that is rocking. They're saying rocking is nothing more than an escape from reality."
Jamison sighs, fiddles with a dangly earring. "There are so many basic ordinary questions that take on such a fraught quality."
On the first page of her Yale dissertation, a study of alcoholic writers that prefigured her new book, Jamison archly noted that recovery memoirs "come in all flavors: Addict Bad-Ass; Addict Mother; Second-Hand Addiction Casualty; Surprisingly-Successful Addict; Total-Trainwreck Addict (often, as it happens, also a Rockstar or Celebrity Addict); and Demographically Marginalized/Representative Addict." So I'm curious: Where does The Recoveringfit in?
"To answer that question, you'd have to assume that my book were being published as a straight addiction memoir," Jamison says. "Which it never would be, because my story is not remarkable enough to fit into any of the sensational or marketplace-proven categories. If it were, it would probably be somewhere between Thrill of the Good-Girl Addict and Surprisingly Successful Addict."
Jamison laughs ruefully. "I guess for me, the price I paid was not in the category of failing my class or losing my job." Rather, the price was "a deep sense of internal shame" and "years when my work felt stale and thwarted. It just didn't have a pulse."
Around this time, Jamison's husband pads into the room in his stocking feet, bearing tall glasses of ice water. A genial, shaggy-haired man in his late 40s, he wears a black T-shirt and jeans and has tattoos on both forearms.
I ask Bock what it's like to be married to the Queen of Empathy. Does Leslie ever drink the last of the milk? Leave a bag of chips in the cabinet with only crumbs inside?
"She does none of those things," he says. "I assure you. She's the real deal."
"It's kind of funny that I've been branded as the empathy lady, when really what I'm doing is questioning and interrogating empathy," Jamison says in her soft voice. "Not holding myself up as an example for all the world to see. I mean, I'm not this endless fountain of empathy."
But she is. In person, Jamison comes across as warm, curious, and sincere — as if your cozy, gemütlich, afghan-wrapped therapist had morphed into an academic superstar and inhaled the complete works of Eve Kosofsky Sedgwick. Which, honestly, can feel a bit much in The Recovering. Even in the pantheon of Good-Girl Addicts, it's possible to be a little too good. Jamison confesses to botching what she describes as the ritual humiliation of new initiates into the Harvard Advocate. "I was supposed to be terrible to them, but I was terrible at being terrible," she writes. " 'Get on your fucking knees and beg!' I'd yell. And then, softer: 'If that makes you feel weird, or uncomfortable, you totally don't have to.' "
Yet her ardent writing style and extended-release doses of empathy have made her a consistently powerful journalist. When she abandons her own plotline — "the claustrophobic crawl space of the self," as she puts it — and allows herself to dwell fully in the lives of others, the results have been spectacular. Perhaps it's partly because it's so unexpected: We're accustomed to journalists playing the part of the skeptical doctor, not the compassionate nurse. Jamison manages to do both (and to place a cool washcloth on her own forehead for good measure).
Take the piece she wrote in 2013 for Harper's about Morgellons disease — a bizarre condition in which people believe they have actual, inexplicable stuff coming up through their skin: fuzz, crystals, "coffee specks."
At a conference on the disorder, Jamison encounters sufferers with mangled ears, pockmarked bodies, caked-on stage makeup covering facial scars. They pull out their phones and show her bathtub videos and photos of tiny shrimplike things they've "coughed up." The Morgies appear to be a piteous bunch, an assemblage of Diane Arbus–style grotesques, and Jamison would have been within her rights to write up the event as a freak show. Instead, she actually gets to know them. As the conferees roam the halls, Jamison mulls the meaning of it all. "Does giving people a space to talk about their disease — probe it, gaze at it, share it — help them move through it, or simply deepen its hold?"
Jamison works herself into the piece in a way that's illuminating, not self-indulgent. "These demons belong to all of us," she writes. "Morgellons seems like a crystallization of what I've always felt about myself — a wrongness in my being that I could never pin or name, so I found things to pin it to: my body, my thighs, my face."
The same "ache of an uncanny proximity" permeates a piece she wrote last year for The Atlantic about the surreal virtual platform Second Life, where down-on-their-luck middle-aged women spend their days creating pixelated Norman Rockwell dreamscapes for their avatars. Instead of zinging her subjects — Bridgette, a mother of autistic twins, and Alicia, a woman unable to have biological children — for lounging in these hermetically sealed worlds at the expense of their real families, Jamison points out that the impulse "to escape our lives is universal and hardly worth vilifying." Indeed, "There's something stubbornly beautiful about Alicia's Second Life family, all four of these people wanting to live inside the same dream."
In a pre-publication interview, Jamison explained that her goal in The Recovering was to "innovate upon the tradition of the recovery memoir … by including a whole fugue of stories, not just my own." By interpolating her own experience with that of alcoholic writers like Raymond Carver and John Berryman, tortured artists like Billie Holiday and Amy Winehouse, and a ragtag crew of aging 12-steppers who graduated from a Maryland rehab decades ago, she'd "dramatize the saving alchemy of community" and dissolve the split between the sphere of literature (unique, chock-full of narrative particularity) and the sphere of recovery (trite, "polyesterishly banal," in David Foster Wallace's words).
Put more prosaically, Jamison's Little, Brown editor Ben George tells me that, although it is never made explicit, her book "works like one long AA meeting. It's an incredibly ambitious project. It's a chorus of voices, a chorus of 'shares.' "
Yet the hybridity and multiplicity of perspectives that serve her so well in her journalism can feel unsatisfying in the memoir. In the opening scene of The Recovering, Jamison rises at an AA meeting to share and expounds on her abortion, her blackouts, "the night I don't call date rape." But when she's still in the midst of her tale, she's rudely interrupted by a cantankerous old coot in a wheelchair. "This is boring!" he shouts.
Jamison — "stuttering, eyes hot" — soldiers on through the "talking points of my pain," but she's badly thrown. "This man had managed to tap veins of primal insecurity," she writes. "That my story wasn't good enough, or that I'd failed to tell it right, that I'd somehow failed at my dysfunction, failed to make it bad or bold or interesting enough."
The last decade of Jamison's life has been a marvel of achievement and Stakhanovite productivity. Yet within the cloistered recovery world, she's still the girl at the dinner table, fearful that she's not measuring up. She longs for a recovery story "larger than my own, with taller buildings and sharper knives."
The anxiety-of-influence master texts looming in the background are Mary Karr's Lit and Caroline Knapp's Drinking: A Love Story. Both memoirs unfold in cinematic-epic mode. Karr describes a car crash, confinement in a psych ward, a suicide attempt involving a garden hose and duct tape. Knapp stumbles into traffic with her friend's young children in her arms, nearly killing them.
From a crafting standpoint, Jamison compensates for her own lack of dysfunction by pushing back against the idea that the train wreck is the juiciest part of the addiction narrative. Her aim is to prove that "the story of getting better can be just as compelling as the story of falling apart." She also seeks to offset the thinness of her own story by weaving in the accounts of others.
Against all odds, she actually succeeds on the first point. Before reading The Recovering, I'd had no idea that Raymond Carver wrote his best short stories after he got sober or that Denis Johnson produced almost nothing during the time he was actively using heroin. Jamison paints a moving portrait of both artists and convincingly shows that their writing happened despite the chaos of their addiction, not because of it.
But the Greek chorus of less famous voices — the quirky septuagenarian former addicts from Maryland — interrupts the flow of the book and undermines its power. Jamison devotes almost a hundred pages to the travails of Sawyer, Gwen, Marcus, and Shirley, yet their stories of broken crystal, chairs hurled across the room, and vomit-strung hair sound canned. Even Jamison admits the tales have "the easy lilt of practiced narrative grooves" — except she thinks that's fine. "Just because a story has been crafted for survival — sculpted by memory, polished by repetition, whittled into artifact — doesn't mean it doesn't also hold truth," she writes hopefully. Fair enough, but in the words of the wheelchair-bound geezer: "This is boring!"
These ordinary men and women probably aren't compelling because Jamison didn't come to them organically. Unlike the Morgellons patients or the Second Lifers, they're conscripted into the narrative as props, as Tolstoyan window dressing meant to provide a richer and more resonant backdrop for Jamison's own suffering.
Their prominence can't help but make you wonder why Jamison wrote a drinking memoir in the first place, if she truly felt that her drinking story was too "neat and clean" and that she'd "failed at dysfunction." The most obvious reason, judging from her own observations, is that despite her self-described high functionality, she remains a "wound-dweller," stuck in a kind of Sontagian illness-as-metaphor netherworld. Pain remains her creative engine and source of material — even if it's not the stuff of epic.
"Wounds promise authenticity and profundity; beauty and singularity, desirability," Jamison wrote in The Empathy Exams. "They bleed enough light to write by."
The question that still hangs in the air, though, is the one Jamison posed herself in the Morgellons essay: Does giving people a space to talk about their pain — to probe it, to write books about it — help them move on from it, or simply deepen its hold?
When we talk in her Brooklyn home, Jamison seems a bit defensive about the adorably twee mise-en-scène and about how well things have turned out for her. "I'm definitely aware of the quasi-gag factor of the sun-filled Park Slope parlor," she says. "I'd just say that there's the Facebook version of life, and there's the actual version. Even though I feel really grateful for my husband and family, any utterly tranquil, blissful domestic tableau probably has its own complicated truth behind it."
But it could be that the Surprisingly Successful Addict is ready to look on the bright side. "The book has been getting really nice attention," Jamison tells me. "Interview magazine came to photograph me. They brought a lot of suits and, like, these amazing pencil skirts. I think that was their vision for me."
Jamison pauses to gulp ice water. "I ended up in this silk suit," she says. "And this transparent blue top that had these sort of glammy stones on it. I think I leaked breast milk onto it at a certain point. It was crazy. Everyone had a green juice. The photographer kind of forcibly bunched up the sleeves of my jacket and had me straddle a chair. He was like, 'Yes, yes, yes.' He kept saying, 'You look so tough. You look so tough.' "
"Tough is one of the last adjectives I would use to describe myself," Jamison says.
She tries to look outraged, but a smile pricks the corners of her mouth. "Somehow, in this photo shoot, another version of self emerged."
*This article appears in the March 19, 2018, issue of New York Magazine. Subscribe Now!