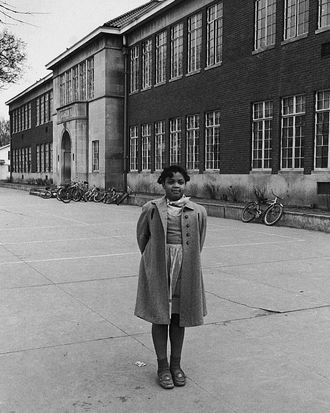 Linda Brown.
Photo: Carl Iwasaki/The LIFE Images Collection/Getty
The young girl who was at the center of Brown v. Board of Education, the landmark U.S. Supreme Court case that outlawed segregation in pubic schools, has died, the Topeka Capital-Journal reports. She was 76 years old.
Linda Brown was just 9 years old when her father attempted to enroll her at the nearby Sumner Elementary School — which was, in 1951, an all-white school. Unwilling to accept her because of the color of her skin, the public school in Topeka, Kansas, suggested to the Browns that their daughter attend a different school: the all-black Monroe School, approximately two miles from their home.
It was then that Brown's father decided to sue the Topeka Board of Education. After Brown's complaint was combined with four similar cases, the bundle was presented to the Supreme Court. In May 1954, the Supreme Court ruled that "separate educational facilities are inherently unequal" in the landmark court case.
While Brown's family told the Courier-Journal they would not comment on the death, Brown's sister, Cheryl Brown Henderson, confirmed it.
Following the reports today of Brown's death, Kansas's governor, Jeff Colyer, tweeted about her immeasurable contributions to U.S. history.
"Sixty-four years ago a young girl from Topeka brought a case that ended segregation in public schools in America," he wrote. "Linda Brown's life reminds us that sometimes the most unlikely people can have an incredible impact and that by serving our community we can truly change the world."