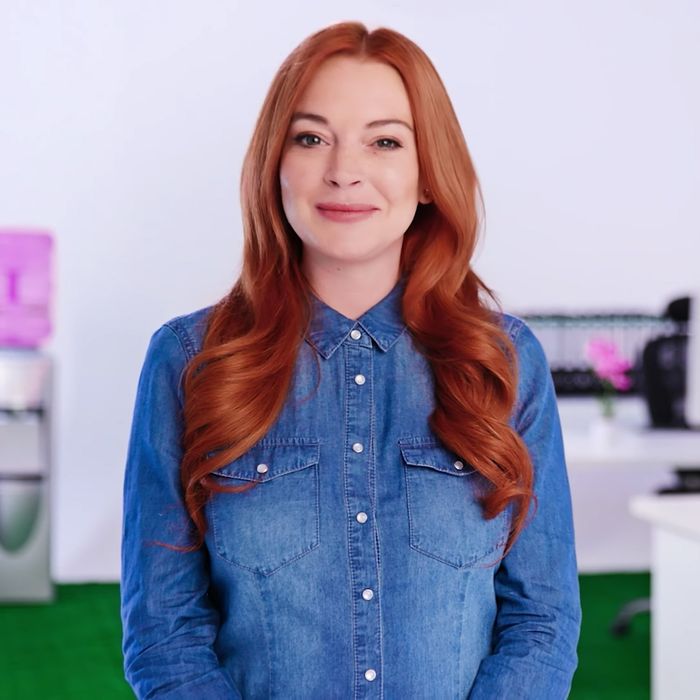 Lindsay Lohan has a new job.
After dabbling in jewelry design, diplomacy, and accents, the Parent Trap star turned global entrepreneur is returning to her acting roots with an exciting new role as the spokesperson of Lawyer.com.
"When Lawyer.com first reached out to me, I was confused and a little scared because I thought I was in trouble," Lohan jokes in the company's new video. "But when they asked me to be their spokesperson, I was intrigued."
I would be too! What else can you tell us?
"After talking to the team, I realized Lawyer.com is just about helping people, from getting a DUI … let's not pretend like I didn't get one … or two or three, or some others."
Lohan then talks about some other stuff, then she winks (!) and then the Lawyer.com logo appears onscreen and Lindsay Lohan's loopy, bubbly signature appears below it, at which point I seriously thought I might pass out from overstimulation, so I took a deep breath and immediately watched the video eight more times.
According to the company's press release, Lohan said she is "excited" and that she's used Lawyer.com "for business ventures and found the response time and Lawyer selection amazing."
In addition to fun ads, Lohan "will also act as marketing and brand advisor," which means "each month she ​will ​meet​ ​and brainstorm with Lawyer.com management on new strategies to raise Lawyer.com's awareness."
Congratulations to Lindsay Lohan, and a bigger congratulations to Lawyer.com. With any luck, Lohan will get her caviar-loving bodybuilder friend to do a spot.