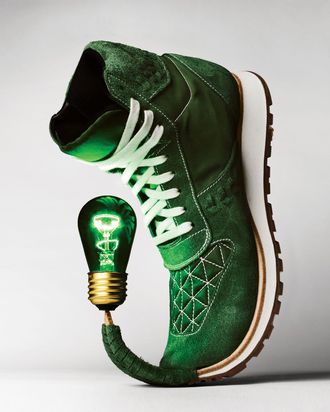 Photo: Bobby Doherty/New York Magazine
Finer Things is a photo series with a playful approach to elusive, glamorous fashion items we're fixated on right now.
We need to talk about Loewe's new sneakers. They come in quilted nylon and smooth suede, and they range in color from deep mossy green to a bold regal purple, but more importantly, they all have a braided, upward-curling toe that cannot be ignored. Were they made for Instagram? Quite possibly. But they'd be fun for a moment of IRL fashion adventure, too.
Some might say they're elf shoes; others would say they call to mind a trip to a Moroccan bazaar. Ultimately, one would have just as much fun sporting these to brunch in the city or on holiday. Evocative of another world, they're just the sort of escapism we crave right now, but with a rubber sole that's built for reality. Choose your own adventure.
If you buy something through our links, New York may earn an affiliate commission.