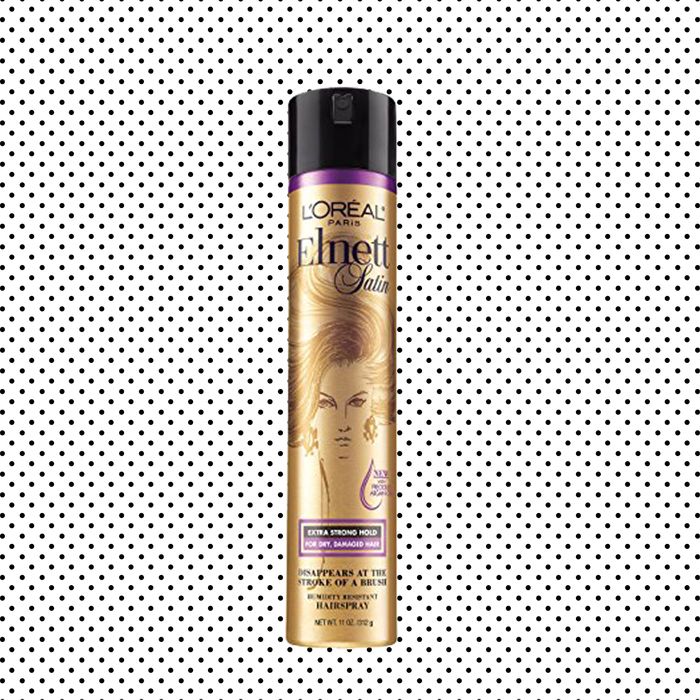 Many beauty products can be described as cult-favorites, but not many can be called smuggle-worthy. L'Oréal Paris's Elnett Satin Hairspray, on the other hand, holds the honor of being both. The hairspray used to be banned from America and had to be smuggled in by enthusiastic hairstylists until it became available stateside in 2008. Thankfully, cross-border smuggling is no longer necessary and the spray now comes in several formulas that offer different levels of hold or shine. L'Oréal Paris's "gold standard" Elnett Satin Hairspray comes highly recommended and the most recent addition has a more softening formula that's more forgiving than the classic one and is ideal for those who tend to forgo hairspray because of its drying and crunchy reputation.
The new Elnett Prescious Oils Satin Hairspray gently deposits the spray onto hair so it doesn't disturb the style, and it's made with humidity protection so there's no frizz or flyaways to worry about. The Precious Oils spray has a healthy dose of argan oil, which means hair stays moisturized and soft no matter how long you press and spray. It's the only hairspray in the Elnett line that was specifically made to protect and nourish hair — the others are, for the most part, all about a strong "brushable hold." Even though this one is meant to soften and smooth hair, it does still have a formidable hold that, if desired, can help create a style that won't budge or whip around in the wind like Donald Trump's.
The Elnett Precious Oils Satin Hairspray is  available now at most drug stores and at Ulta Beauty.
If you buy something through our links, New York may earn an affiliate commission.