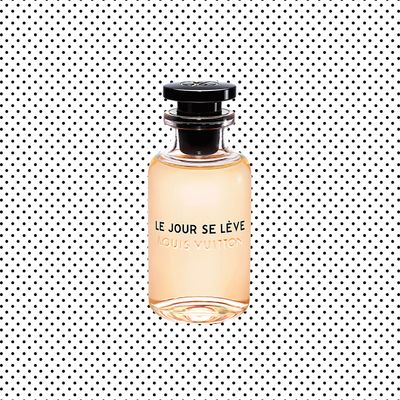 Last week, I ate an orange in the shower. It was pre-planned, it wasn't a whimsical decision. I wasn't trying to add to my pregame ritual nor was I trying to multitask and combine my nutrition and hygiene practices. I decided to try it out after discovering in, a deep dive of Reddit, Shower Orange: an entire thread devoted to the joy of eating oranges in the bathroom.
"Liberating," "carnal," and the best "feel-good thing" you can do, raves Reddit. Devout believers agree that the steam from a hot shower amplifies the fruit's olfactory elements, leading to a more sensorial, tasty, if slightly inconvenient orange-eating experience. They proudly share their pictures of peels circling the drain on social media. Even NPR wrote about the little-known trick a few years ago, and enlisted a White House correspondent and a Science editor to try it out.
When I smelled Louis Vuitton's newest scent, Le Jour Se Lève, for the first time, I thought of shower oranges (but sumo oranges only; this is a luxury perfume after all). They're not the inspiration for in-house perfumer Jacques Cavallier Belletrud, who created and named the scent. But Le Jour Se Lève (French for "daybreak") smells like a bright, lingering burst of real, juicy orange (not orange blossom), and like the oils from the rind of a fresh-peeled fruit perfuming your hands.
Belletrud wanted people to experience a scent you can almost taste — like a "sundrenched mandarin," which he calls a "symbol of the morning." Although it's a fruit-inspired, Le Jour Se Lève is sophisticated and not cloyingly sweet. To round out some of the sweetness from the scent of fresh mandarins, Belletrud added a bit of cassis (or black currant), which gives it a bit of earthiness. Jasmine sambac contributes a leafy, green tea-like element. Other notes of incense and musk help extend the longevity of the main orange note on the skin, but also contribute to giving the perfume a sense of softness.
The real pleasure from smelling this perfume is that mist after mist, it envelops the air and you, with a sense of life, and with a cloud of natural, green, fresh mandarin smell that's the antithesis of the sad, Saran-wrapped oranges you see sitting in company cafeterias. Although after a few hours, some of the freshness and hotness of the mandarin dissipates from the perfume, it leaves behind a tender flush or at least, the memory of a fruitful shower.
If you buy something through our links, New York may earn an affiliate commission.