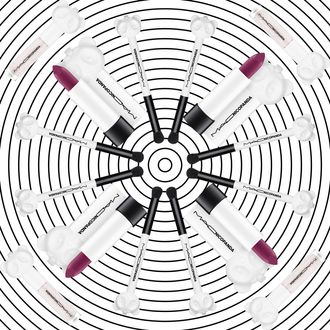 M.A.C is no stranger to collaborations that pack major star power. They've worked with singer Mariah Carey, rapper Nicki Minaj, blogger Patrick Starrr, and now with designer Nicola Formichetti on his first solo M.A.C collaboration. Formichetti, who is most known for his work with Lady Gaga, heads the Brooklyn-based streetwear brand Nicopanda. Formichetti's latest endeavor is giving M.A.C shoppers an extensive streetwear-inspired beauty collection that fuses punk and kawaii-cute styles (all of the products are topped, covered, or embossed with a panda shape). The resulting products are as funky as they are wearable.
The collection comes with six matte lipsticks in Pink-Off (bubblegum pink), Pop Babe (bright pink), Kawaii Party (lavender), Galactic Mint (seafoam green), Toung 'N' Chic (Plum), and Nico Kiss (blackened navy). There are also four pearl lip glosses in Sugar Coat (clear), Panda Kiss (bluish pink), Glitter Parade (lavender), and Dreamz (blackened navy). While most of the colors can be considered vibrant "night looks," they're surprisingly easy to wear during the day.
For the rest of the face, Formichetti created three full-face kits, which include a powder blush and a quad of coordinating eye shadows. The Panda Lash falsies and a sticker sheet top off any and all Nicopanda primed looks. If the makeup is too bold for your tastes, M.A.C and Formichetti made 3 brushes (smudging, blending, and blush) that are wrapped in a panda brush bag that would made a convincing clutch.
Formichetti said collaborating with M.A.C has been a dream. "Nicopanda is about youth — the new generation," he told Teen Vogue. "The brand is always about trying new things, sharing and creating new ideas, so I wanted to tackle the beauty world with Nicopanda. A cosmetics collaboration with M.A.C is a natural partnership."
Formichetti's only word of caution with the collection? Maybe don't use everything all at once. M.A.C Nicopanda launches April 5.