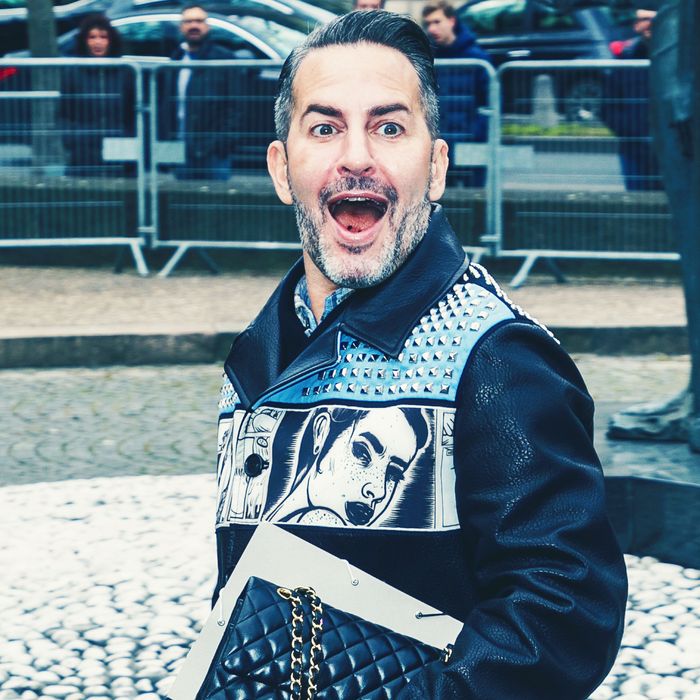 Marc Jacobs.
Photo: Marc Piasecki/WireImage
Marc Jacobs is one of the most fun-loving, unfiltered fashion designers to follow on Instagram. We will never forget when he and Kate Moss videotaped a coordinated "you're basic" routine, for example. Jacobs's everyday, off-duty life is a fashion-lover's dream, and his trip to Paris Fashion Week has been a particular highlight.
This week, Jacobs and his partner Char Defrancesco did their own Tour de France, starting at the new Martin Margiela exhibit and ending at — where else? — the Eiffel Tower. There was much vape-ing along the way (how do you say "vape" in French?), plus every major fashion show one could ever want to attend.
Having served as creative director of Louis Vuitton from 1997 to 2014, Jacobs has his own legacy at Paris Fashion Week. Today, he's a fan of designers like Demna Gvasalia, and can be seen wearing his Balenciaga designs often, from head-to-toe. He also dined with Mrs. Prada, and attended his first-ever Chanel show, giving Mr. Lagerfeld a hug backstage afterwards.
Marc Jacobs is simply a lover of all things fashion, which is why he's so refreshing to follow. Many insiders find themselves deflated or jaded or both after working so long in the industry — but not Jacobs. He brings a much-needed energy to the front row, as well as an openness that we don't normally see. Why shouldn't designers cheer each other on? It's hard out there.
Below, a full recap of Marc Jacobs's global escapades.
He got some inspiration at the new Martin Margiela exhibit.
He matched the City of Lights in shine.
He had dinner with Mrs. Prada herself.
He fan-girled over Demna Gvasalia.
He took some time for self-care.
He went to his FIRST Chanel show, ever.
… And got a hug from Karl Lagerfeld.
Finally, he vaped at the Eiffel Tower.
Nous t'aimons, Marc Jacobs!