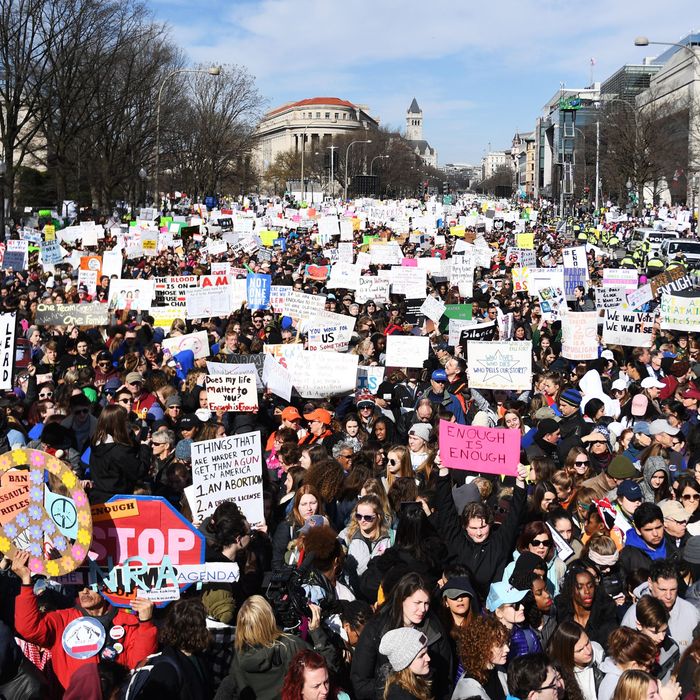 Photo: JIM WATSON/AFP/Getty Images
In more than 800 cities across the world, people are joining in March for Our Lives rallies to deliver in unison a cogent message to lawmakers, the National Rifle Association, and Second Amendment advocates: Never again should a student die in a school shooting.
The #NeverAgain movement started in Parkland, Florida, after a tragic school shooting at Marjory Stoneman Douglas High School left 17 dead, and students around the country have joined survivors including Emma González, Cameron Kasky, and David Hogg to advocate for better gun control in America.
Below, the most powerful moments from the March for Our Lives rallies:
The crowd chants "thank you" as Parkland students arrive at the march
CBS4's Lauren Pastrana tweeted an inspiring video of the Parkland student survivors arriving in D.C. for the main march, during which the crowd is heard chanting, "thank you."
Student injured during Parkland shooting still stands up
Samantha Mayor may have been shot in the knee during the Stoneman shooting a little over a month ago, but she's not letting her injury prevent her from standing up for gun control.
Newtown students head to D.C.
"I can't wait to vote," reads a sign held up by a student from Newtown, Connecticut, who's on one of the eight buses en route to the March in D.C. It's been more than five years since 20 children and six adults were killed during the tragic shooting at Sandy Hook Elementary School.
Students hold photos of those killed in school shootings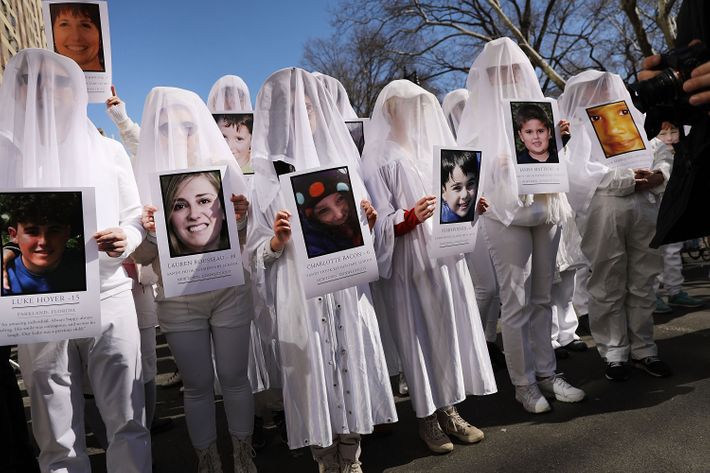 Students in New York City cover their faces with sheer white cloth and hold pictures of students who were killed in school shootings, like Stoneman and Sandy Hook.
Vocal Parkland survivor delivers a message to lawmakers
Cameron Kasky, a student Parkland survivor who co-founded the advocacy group Never Again MSD, delivered a compelling argument to politicians in D.C.: "The voters are coming."
Los Angeles student calls for change
"I have learned to duck from bullets before I learned how to read," says Edna Chavez, who lost her brother to gun violence.
Brother of a Chicago shooting victim speaks for his city's youth
"I'm here to speak for those Chicago youth who feel their voices have been silenced for far too long. And I'm here to speak on behalf of everyone who believes a child getting shot and killed in Chicago or any other city is still a not-acceptable norm," 19-year-old Trevon Bosley says.
David Hogg wants to put the USA over the NRA
"We're going to make sure the best people get in our elections to run not as politicians, but as Americans. Because this — this — is not cutting it," Parkland survivor David Hogg says as he points toward the U.S. Capitol.
We will continue to update this post throughout the march.