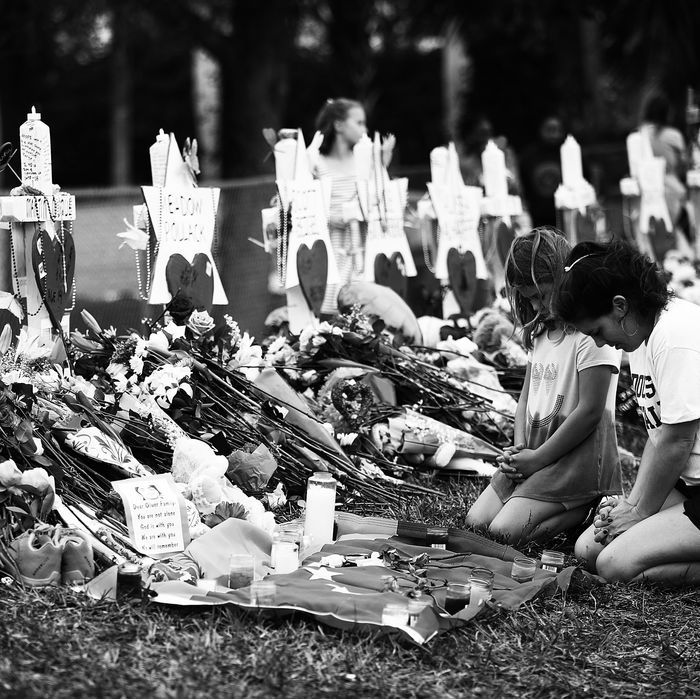 Photo: Joe Raedle/Getty Images
Less than a week after a gunman killed 14 students and three staff at Marjory Stoneman Douglas High School in Parkland, Florida, survivors of the shooting have mobilized to launch the #NeverAgain movement, and the March for Our Lives, a nationwide protest on March 24 to protest gun violence.
"Not one more," the March's Mission Statement reads. "We cannot allow one more child to be shot at school. We cannot allow one more teacher to make a choice to jump in front of a firing assault rifle to save the lives of students. We cannot allow one more family to wait for a call or text that never comes. Our schools are unsafe. Our children and teachers are dying. We must make it our top priority to save these lives."
Here's everything you need to know about the march and related events.
When and where is it happening?
The main march will take place in Washington, D.C., on Saturday, March 24 at noon, just blocks away from the Capitol on Pennsylvania Avenue (see the map of the march route here.) Supporters are also planning sister marches in New York City; Boston; Los Angeles; Chicago; Miami; San Francisco; Dallas; Boise; West Palm Beach; Liverpool, England; and hundreds of other cities across the world. Currently, there are over 800 March for Our Lives events planned around the world.
To find a march near you, search "March for Our Lives" on Facebook, or check out the map here.
Who's organizing it?
The event is being put together by #NeverAgain, a group of survivors of the Stoneman Douglas shooting, like senior Emma González, and junior Cameron Kasky, who have been working tirelessly to make sure the national outrage in the wake of last month's shooting translates to real action. But they are not mobilizing alone. According to their website, "March For Our Lives is created by, inspired by, and led by students across the country who will no longer risk their lives waiting for someone else to take action to stop the epidemic of mass school shootings that has become all too familiar." Gun control advocacy group Everytown for Gun Safety is also helping the students plan and coordinate the event.
Who are they partnering with?
March for Our Lives organizers have received significant funding from a number of celebrities like George and Amal Clooney, Steven Spielberg and Kate Capshaw, studio chief Jeffrey Katzenberg, and Oprah Winfrey, all of whom pledged $500,000 for the rally. (See a full list of celebrities attending the rally here.)
Numerous other celebrities, including Kim Kardashian West, Justin Bieber, Bette Midler, and Debra Messing have also expressed their support on Twitter, calling on their followers to sign the march's petition, and find a demonstration near them.
Businesses have also offered their help. The ride-sharing company Lyft is offering Stoneman students free rides to the march, and dating app Bumble banned imaged of guns on its platform, and donated $100,000.
And there are grassroots supporters too. According to the Washington Post, teens from high schools around Washington, D.C., are opening their homes and organizing "a network of host families that live along the D.C. metro system that can host out-of-town students for the march."
What do they hope to accomplish?
In addition to showing their support for victims of gun violence, march organizers hope the rally will inspire concrete legislative outcomes. In their Mission Statement, march organizers write:
School safety is not a political issue. There cannot be two sides to doing everything in our power to ensure the lives and futures of children who are at risk of dying when they should be learning, playing, and growing. The mission and focus of March For Our Lives is to demand that a comprehensive and effective bill be immediately brought before Congress to address these gun issues.
Participants are also coming together to register voters at various marches, to ensure that outrage today will translate to high turnout during November's midterm elections.
Is this related to the National School Walkout?
Yes and no. The National School Walkout was put together by Women's March organizers, who are called for students, teachers, administrators, and allies across the country to walk out of their classrooms for 17 minutes at 10:00 a.m. on Wednesday, March 14 — one minute for every victim of the Stoneman Douglas shooting. Although the two events are being organized by two different groups, their goals are the same. Per the National School Walkout's website:
"Students and allies are organizing the national school walkout to demand Congress pass legislation to keep us safe from gun violence at our schools, on our streets and in our homes and places of worship," organizers wrote.
Students have also called for a National School Walkout on April 20, the 19th anniversary of the Columbine High School shooting. No time has been set, but a Change.org petition has been signed over 80,000 times.
What is Stay Amped?
On March 23, the night before the march, artists like Bebe Rexha, Lizzo, Fall Out Boy, and G-Easy will perform for Stay Amped, a concert to benefit Everytown for Gun Safety, and Gabby Giffords's Courage to Fight Gun Violence. Tickets are between $100 and $175 and, according to the event's website, "For every Super Excellent Seat purchased, a ticket will be donated to a student activist attending the March for Our Lives rally from Parkland and elsewhere in the country."
You can buy tickets here.
How can I get involved?
If for whatever reason you can't attend a rally on March 24, there are other ways to help. You can donate to the GoFundMe page Stoneman Douglas students put together for the event (any money they receive beyond their $2 million goal will go to victims' funds) or sponsor a student to travel to the march by contacting info@marchforourlives.com.
You can also sign the organizers' petition, calling on Congress to pass legislation to address gun violence. Read it here.
And if you can go to a rally, get out and march with students and families across the country to tell lawmakers #NeverAgain.