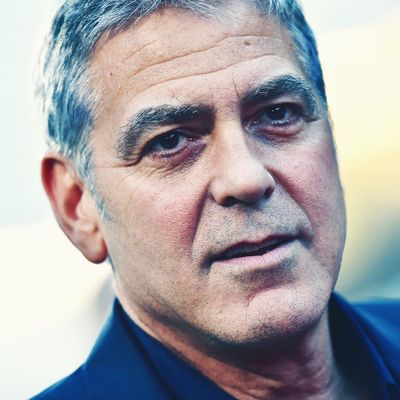 George Clooney.
Photo: Axelle/Bauer-Griffin/FilmMagic
On Friday, the staff of Marjory Stoneman Douglas High School's student newspaper, the Eagle Eye, guest-edited The Guardian's website to raise awareness for gun control and school safety, and to promote Saturday's March for Our Lives.
As part of their project, they explained, the students reached out to celebrities for interviews, including George and Amal Clooney, who were early supporters of the march, and donated $500,000 to help pay for it. Although the Clooneys declined an interview, George wrote a letter to the Eagle Eye's three co-editors-in-chef, Emma Dowd, Lauren Newman, and Rebecca Schneid, praising them for their work, and explaining that now is not the time for adults to talk.
Amal and I are 100% behind you and will be marching in DC on the 24th, but we both feel very strongly that this is your march. Your moment. Young people are taking it to the adults and that has been your most effective tool. The fact that no adults will speak on the stage in DC is a powerful message to the world that if we can't do something about gun violence then you will. The issue is going to be this, anyone you ask would feel proud to be interviewed by you but it's so much more effective if it's young people.
Clooney suggested that instead of celebrities like him, the students interview, "a dozen kids like the young kids from Chicago and L.A. that Emma met with," and make The Guardian "tell the stories of children by children."
"You certainly should do what you want but that would be my hope for you," he wrote, concluding, "You make me proud of my country again."
Read the full letter here.