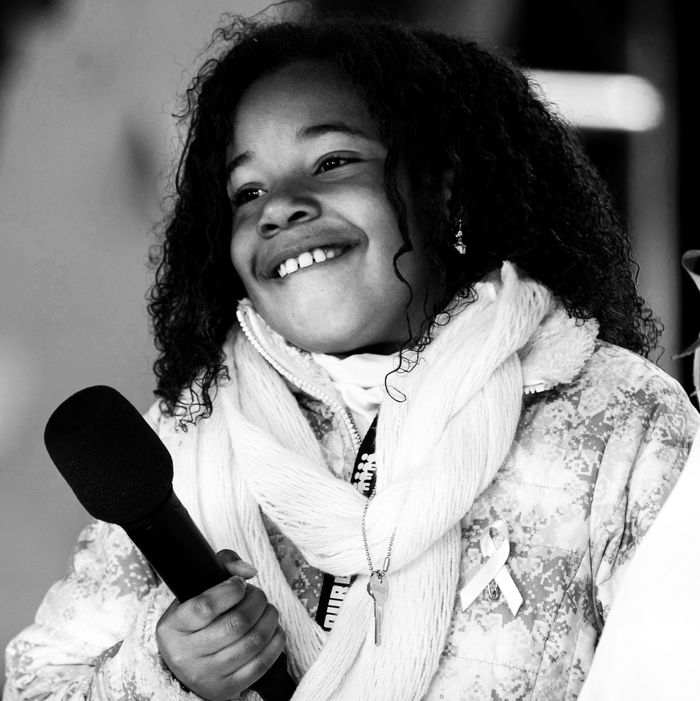 Yolanda King, Martin Luther King Jr.'s granddaughter.
Photo: Andrew Harnik/AP/REX/Shutterstock
Martin Luther King Jr.'s granddaughter has a dream, too. At the March for Our Lives rally in Washington, D.C., standing alongside Parkland survivor Jaclyn Corin, 9-year-old Yolanda King disclosed her desire in front of a crowd of hundreds of thousands: "I have a dream that enough is enough, and that this should be a gun-free world. Period."
From 11-year-old Naomi Wadler, who recently led a walkout at her school in Virginia, to Stoneman survivor Emma González, a number of fearless teenagers and children have delivered powerful messages in support of stricter gun-control at the student-led protests. The biggest event, organized by the survivors of the tragic school shooting at Marjory Stoneman Douglas High School in Parkland, Florida, has drawn numerous high-profile celebrities and inspired similar demonstrations around the world.
King, who wore an orange gun violence awareness ribbon pinned to her coat, proudly introduced herself as MLK's granddaughter as she stood onstage, gripping Corin's hand.
"My name is Yolanda Renee King, granddaughter of Martin Luther King and Coretta Scott King," she said. "My grandfather had a dream that his four little children would not be judged by the color of their skin, but by the content of their character."
To close out her speech, she led the audience in a call-and-response chant after divulging her wish for a world without gun violence. "Spread the word. Have you heard? All across the nation. We are going to be a great generation," she yelled into the crowd.
Watch the full inspiring speech below.