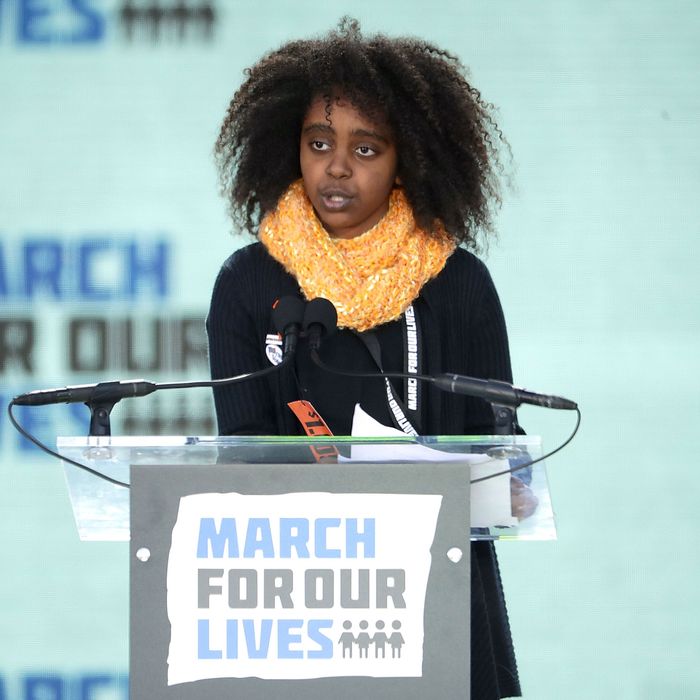 Naomi Wadler at the March for Our Lives.
Photo: Chip Somodevilla/Getty Images
Saturday's March for Our Lives protests were filled with powerful moments, from speeches given by the survivors of the shooting at Marjory Stoneman Douglas High School in Parkland, Florida, to students from Newtown, Connecticut, joining the rallies. But one of the most inspiring moments of the day came when 11-year-old Naomi Wadler, who recently led a walkout at her school in Virginia, took the stage in Washington.
With more eloquence and poise than most adults could ever hope to muster, Wadler told the crowd in D.C., "Me and my friend Carter led a walkout at our elementary school on the 14th. We walked out for 18 minutes, adding a minute to honor Courtlin Arrington, an African-American girl who was the victim of gun violence at her school in Alabama after the Parkland shooting."
Wadler continued: "I am here today to represent Courtlin Arrington. I am here today to represent Hadiya Pendleton. I am here today to represent Taiyania Thompson, who at just 16 was shot dead at her home in Washington, D.C. I am here to acknowledge and represent the African-American girls whose stories don't make the front page of every national newspaper, whose stories don't lead on the evening news."
The young student went on to say that "these black girls and women" have been "just numbers" for far too long. "I'm here to say never again for those girls, too. I am here to say that everyone should value those girls, too," she said.
Many people on social media were appropriately inspired and impressed by her speech:
Watch her full speech below.