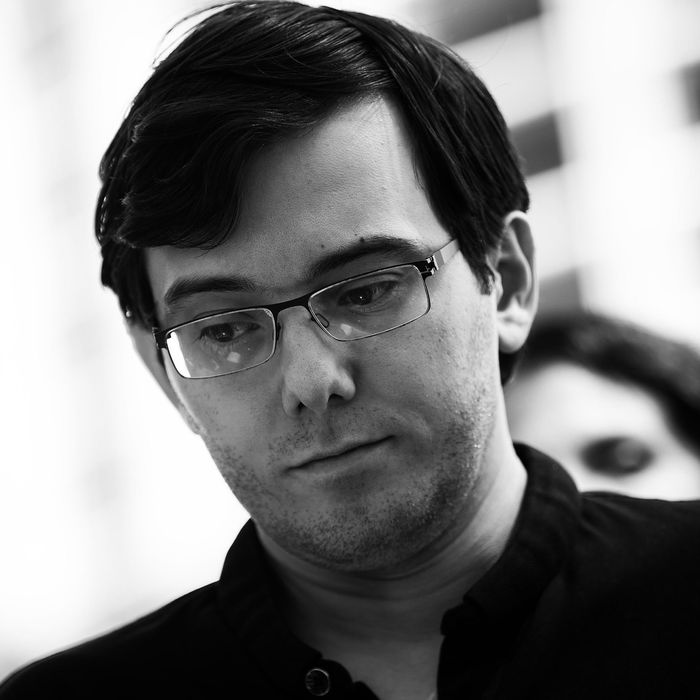 Martin Shkreli.
Photo: Drew Angerer/Getty Images
On Friday, "Pharma-Bro" Martin Shkreli was sentenced to seven years in prison for defrauding investors.
In a tearful statement during the sentencing hearing in a Brooklyn federal courtroom, Shkreli told the judge, "There's no conspiracy to take down Martin Shkreli. I took down Martin Shkreli with my disgraceful actions."
What were those disgraceful actions, exactly? Join us, won't you, in a journey through some of Shkreli's worst moments:
The Daraprim disaster:
Long, long ago, Martin Shkreli was a relatively unknown hedge-fund dude. And then, in 2015, Shkreli's company, Turing Pharmaceuticals, bought the patent for Daraprim, a drug used for AIDS and cancer patients, and hiked the price up from $13.50 a pill to $750.
Shkreli claimed the profits would go into research and development of new drugs, but by then he was already being called the most hated man on the internet.
The Wu-Tang album:
Shortly after we met Shkreli, we learned that he was the man who bought the sole copy of the Wu-Tang Clan's double-album Once Upon a Time in Shaolin for $2 million. He then proceeded to be a total wang about it, taunting RZA and telling them he would release the album for free if Trump was elected (he hasn't) and telling one interviewer he would not play the album for no reason, but "if Taylor Swift wants to come over and suck my dick, I'll play it for her."
Harassing a female journalist:
Never tiring in his quest to be universally reviled, Shkreli then launched a bizarre harassment campaign against journalist Lauren Duca. In January 2017, he DM'd Duca on Twitter to invite her to Trump's inauguration. "I would rather eat my own organs," Duca tweeted, along with a screenshot of his message.
In response, Shkreli called her a "cold you know what" and changed his Twitter profile picture to one of Duca and her husband sitting on a couch, with his face Photoshopped over her husband's. He also changed his Twitter cover photo to a collage of pictures of Duca with the words "til death do us part, I love you with every single beat of my heart" across the bottom, and wrote in his bio "small crush on @laurenduca (hope she doesn't find out)".
Twitter eventually suspended Shkreli's account for "targeted harassment."
Offering to pay people $5,000 for Hillary Clinton's hair:
After he was found guilty of fraud in August 2017, Shkreli was out on a $5 million bond while awaiting sentencing. To kill the time, he wrote a Facebook post which read, "The Clinton Foundation is willing to KILL to protect its secrets. So on HRC's book tour, try to grab a hair from her. I must confirm the sequences I have. Will pay $5,000 per hair obtained from Hillary Clinton."
He later deleted the post and said it was just a joke, but a Brooklyn federal judge deemed him a "danger to the community," and he was taken back into custody.
His face:
Just look at it.
But there were some good times, too:
Shkreli's transparent, craven attempts to get people's attention were disheartening and tiresome, but if there's one thing we gained from them, it was a collection of sick burns. Remember all the savage things people said about him during jury selection? Here are some of the best ones:
Juror No. 1: I'm aware of the defendant and I hate him.

Juror No. 1: I think he's a greedy little man.




Juror No. 144: I don't think I can because he kind of looks like a dick.




Juror No. 10: The only thing I'd be impartial about is what prison this guy goes to.




Juror No. 28: I don't like this person at all.

Juror No. 28: Is he stupid or greedy? I can't understand.




Juror No. 59: And he disrespected the Wu-Tang Clan.
And today, Shkreli's own lawyer admitted he wants to punch him sometimes.
Thanks for the memories, Martin. Enjoy prison.