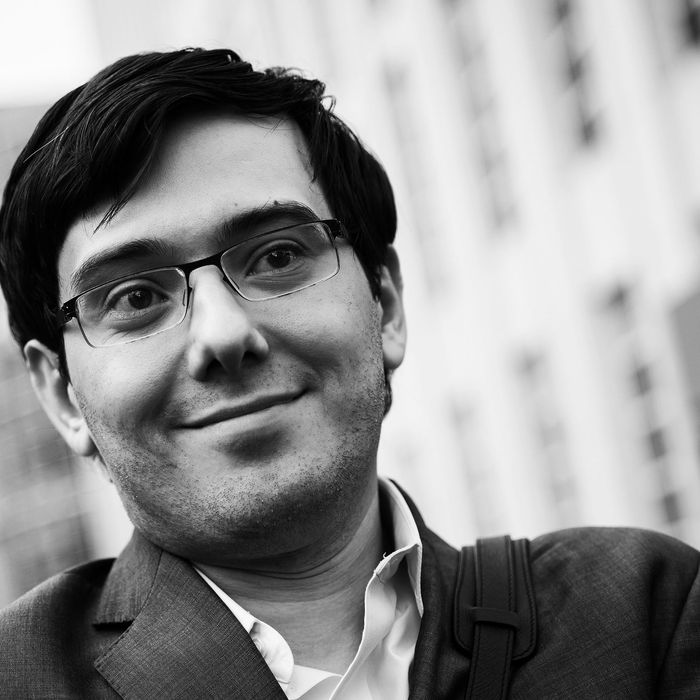 Martin Shkreli.
Photo: Drew Angerer/Getty Images
Today, Martin Shkreli finally learned his sentence after being convicted of fraud in August. In case you needed a refresh on Shkreli, he's the "Pharma Bro" best known for severely gouging the price of a life-saving AIDS drug. And for paying $2 million for a Wu-Tang album. Also, for harassing journalists online. In fact, jury selection was notably difficult for the trial because so many people hated him already.
So, at his sentencing hearing, his lawyer appears to be trying out a new strategy: telling the judge that he too wants to punch Shkreli in the face.
Per the Associated Press:
"Pharma Bro" Martin Shkreli's lawyer said he sometimes wants to hug his client and sometimes wants to punch him in the face, but he told a federal judge at his sentencing hearing Friday that his outspokenness shouldn't be held against him.
Said attorney, Benjamin Brafman, is asking for 18 months in prison for his client, while the prosecution is pushing for 15 years. He ended up getting seven years, and at least one very important truth was revealed in that courtroom.
This post has been updated throughout with details about Shkreli's sentence.