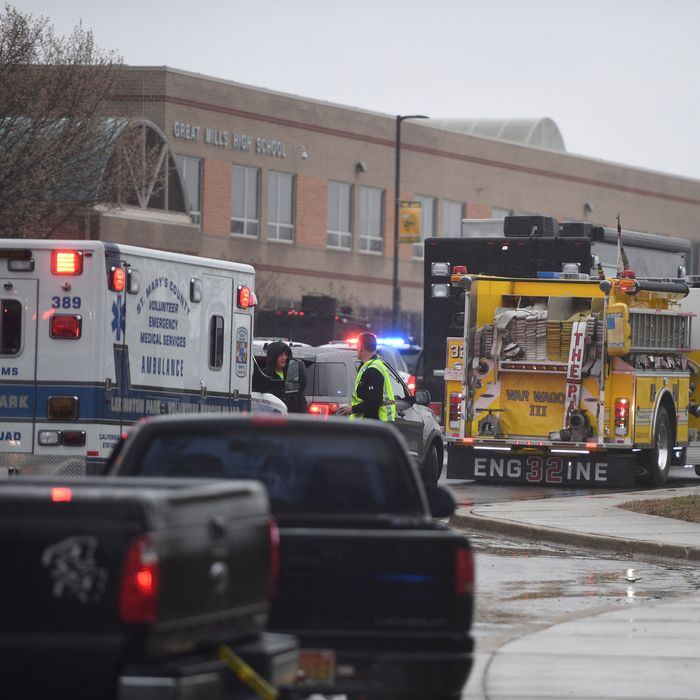 Great Mills High School.
Photo: JIM WATSON/AFP/Getty Images
Less than a week after nearly a million students across the country marched in the National School Walkout to end gun violence, a shooting has been reported at Great Mills High School in Maryland.
One student is dead, and two are injured, CNN reports.
The shooting reportedly took place around 8 a.m., before students' first period. According to CBS affiliate WUSA-TV, St. Mary's County Sheriff Tim Cameron said one student shot another in the hallway, possibly injuring a second, before a school resource officer intervened and shot the gunman, who was later pronounced dead. Shortly after, St. Mary's Sheriff's office and St. Mary Country Public Schools tweeted that the school was on lockdown, and the event had been contained.
Last Wednesday, TheBayNet.com reported that Great Mills students were among those taking part in the National School Walkout, the nationwide march to protest gun violence, and to show support for the 17 victims of February's horrific massacre at Marjory Stoneman Douglas High School in Parkland, Florida.
"Less than a WEEK ago Great Mills High School students walked out with us to protest gun violence … now they're experiencing it for themselves. The state of our country is disgusting - I'm so sorry, Great Mills," tweeted 17-year-old Jaclyn Corin, a Stoneman Douglas survivor who has become a vocal gun-control activist.
Since the Stoneman Douglas shooting, students have emerged as leaders in the fight for stricter gun-control legislation. They have been key in organizing the March for Our Lives, a nationwide protest against gun violence scheduled for Saturday, March 24.
Updated March 20, 2018 2:00 p.m.:
According to CNN, Sheriff Tim Cameron identified the shooter as 17-year-old Austin Wyatt Rollins. Rollins reportedly had a previous relationship with the 16-year-old female student he shot, who is now in critical condition. Another student, a 14-year-old male, is in stable condition.