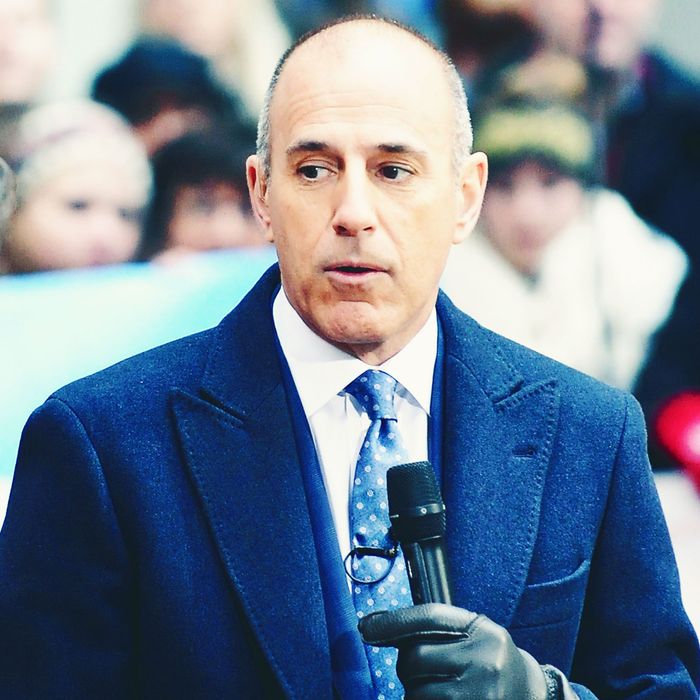 Matt Lauer.
Photo: Daniel Zuchnik/WireImage
Bad news for those who enjoy munching on a juicy steak under the watchful, cartoon gaze of an alleged sexual abuser: New York's famed Palm steakhouse has reportedly taken down its caricature of disgraced TV host Matt Lauer.
According to "Page Six" the "meat mecca," which proudly displays celebrity portraits, removed Lauer's picture about a month ago, and also took down the caricatures of Harvey Weinstein and Bill Cosby. Drawings of Lauer's former Today show hosts, Hoda Kotb and Kathie Lee Gifford, remain on the walls.
Not all dining establishments have followed suit. Katz's Deli, which displays dozens of photographs of famous diners — including Billy Bush of Access Hollywood tape infamy. Per "Page Six":
"Owner Jake Dell joked to Page Six that they have so many pictures that policing the walls could become a full-time job, and laughed that he doesn't pay enough attention to Hollywood gossip to know who's involved in a scandal or who's not!"
Portrait or no portrait, this probably won't keep Lauer from offering unsolicited feedback to Today producers.